Why is 'Logan' rated R? What you need to know about Hugh Jackman's final Wolverine movie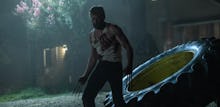 Hugh Jackman has become synonymous with Wolverine since he first donned the adamantium claws over a decade ago. It's hard to imagine the X-Men franchise without Jackman's steely presence, but after the character's third standalone movie, Logan, premieres Friday, he'll officially be done with the role. 
However, if Jackman's leaving the beloved franchise, at least he's going to go out with a bloody bang — and an R rating to boot. So if you've ever wanted to see Wolverine rip through human flesh with a fairly decent amount of gore splashed in, congratulations? 
Ahead of Logan's release this weekend, here's what you need to know about Jackman's final Wolverine bow. 
The R rating is for the things you'd expect. (Thanks, Deadpool!) 
While the plan might've always been for Logan to be an R-rated Wolverine movie  — and really, what a missed opportunity it would've been if they didn't — with Jackman taking a pay cut to help the process, it certainly didn't hurt that 20th Century Fox hit a home run with another X-Men property: Deadpool. Yes, Deadpool, which almost trolled its way to a few Oscar nominations and became the highest grossing R-rated film ever made. As such, the studio should've had no reservations about giving Logan its own R rating. 
So what exactly did Logan do to earn its R rating? Director James Mangold informed fans through Twitter that it officially received its rating due to "strong brutal violence and language throughout, and for brief nudity." Fun! 
Patrick Stewart will also say goodbye as Professor X 
As if losing Jackman wasn't a tough blow for the X-Men, Logan will also be Patrick Stewart's swan song as Charles Xavier, aka Professor X. Stewart explained the rationale behind his decision to leave the franchise after Logan during a SiriusXM town hall alongside Jackman and Mangold. Stewart said the decision in his mind was made after the film premiered at Berlin Film Festival. 
"We had some time to sit there and, as I sat there, I realized there will never be a better, a more perfect, a more sensitive, emotional and beautiful way of saying 'au revoir' to Charles Xavier than this movie," he said. "So, I told [Jackman] that same evening, 'I'm done, too. It's all over.'"
Critics love Logan
Imagine this: Jackman and Stewart say farewell to the X-Men franchise with a film that's just terrible. Like, Batman v Superman, Ben Affleck-is-currently-having-an-existential-crisis bad.   
Thank goodness, then, that Logan is a critical darling. It currently holds a 94% "certified fresh" rating on Rotten Tomatoes, with many critics already dubbing Logan one of the best superhero films ever made. However, as John Sherman noted in his review of Logan for Mic, the film is quite prescient in the current political climate under President Donald Trump — what with the surviving mutants fleeing to the American border to evade persecution. 
"The notion of a national border as a safe haven seems somehow old-fashioned, as though everything behind the armored onslaught of the pseudo-sci-fi military-corporate complex of the near future — both ideological and scientific, in a world in which mutants exist — could be stopped by something as civil and diplomatic as a national border," Sherman wrote. "But this is precisely the case in our own, mutant-less world — a line on a map can mean life or death for refugees." 
Logan arrives to U.S. theaters Friday. 
Mic has ongoing superhero coverage. Please follow our main superhero hub here.