'Logan' Reviews: What are critics saying about Hugh Jackman's final Wolverine movie?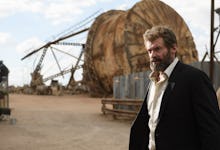 Hugh Jackman is back as Wolverine in Logan for one final time — or so he says.
On Friday, March 3, Jackman will take his last bow as his most well-known onscreen character. Logan is currently earning exceptional reviews and is already certified "fresh" on Rotten Tomatoes. The film currently sits at 95% on the reviews website as of Tuesday afternoon.
In Logan, Jackman dusts off his claws as a much older Wolverine (seriously, he now has salt-and-pepper hair). The film, based on the graphic novel, is set in the near future. 
We meet up again with Wolverine, who goes by Logan these days and is currently caring for an ailing Professor X. They're hiding out on the Mexican border and living a quiet life. Logan is attempting to hide from the world and has rid himself of his X-Men legacy. 
Mutants are mostly gone, until one day Logan meets a young mutant named Laura/X-23. He sees himself in the child and the two team up as Logan comes out of retirement for a brief and final moment.
Critics are saying that Jackman's last stint as Wolverine is his best ever. Directed by James Mangold, Logan is being described as grim and gritty, and celebrated for defying genre conventions.
Cary Darling, Forth Worth Star-Telegram: 
Let's cut straight to the chase and not mope around the point. 'Logan' — the final chapter in the saga of the X-Men's Wolverine — is the best superhero-related movie since 'The Dark Knight' nearly a decade ago.
Soren Anderson, Seattle Times:
Instead of putting the emphasis on superhero superpowers, Mangold delves deeply into these characters' human-scale vulnerabilities.
Brian Tallerico, RogerEbert.com:
'Logan' is the rare blockbuster that could be a game-changer. It will certainly change the way we look at other superhero movies and how history judges the entire MCU and DC Universe of films.
Allison Willmore, BuzzFeed News:
'Logan' succeeds in something the genre it's a part of has had little interest in — in making a capacity for violence feel like a loss its characters suffer. In doing so, it gives Wolverine something it seemed like he'd never get — a fitting ending.
Mark Daniell, The Toronto Sun:
Star Hugh Jackman isn't just giving us the definitive 'X-Men' movie; it could just be the definitive comic book movie.
Jackman's performance is being called the best of his career.
Victoria Alexander, FilmsInReview.com:
One of next year's nominees for best actor must go to Jackman. His Logan is as moving and complex as dramatic characters demand. Boyd Holbrook is a charismatic villain.
Jacqueline Coley, Black Girl Nerds:
Hugh Jackman has been Wolverine for over 17 years, and yet he found a way to deliver a [new] version of the character... in quite possibly the best performance of his career.
This is the final standalone sequel for the superhero. Before Logan, we got the mediocre The Wolverine — also directed by Mangold. And there was X-Men Origins: Wolverine, which is considered by many to have been an all-around, absolute disaster. It's good to see the character ending on an overwhelmingly positive note. 
You can see for yourself once Logan is released in theaters Friday, March 3. 
Mic has ongoing movie coverage. Follow our main movies hub here.