Jaquarrius Holland, 18-year-old trans woman, killed in Louisiana, misgendered in reports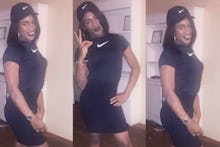 Jaquarrius Holland, an 18-year-old transgender woman living in Monroe, Louisiana, was murdered on Feb. 19 and, due to initial misgendering, was not reported as transgender.
KARD and KTVE reported that Holland was shot during a verbal altercation on Feb. 19, but the news report continues to misgender Holland. Friends of Holland's have since corrected the reports on social media and identified Holland as a transgender woman. 
In a phone interview with Mic, Chesna Littleberry, a friend of Holland's, said Holland identified as transgender and used "she" and "her" pronouns. She and Holland met about seven months ago and quickly became friends. Holland, who was unemployed and housing insecure, often stayed at Littleberry's home, though she often moved around a lot. 
"She didn't want to feel like she was intruding, but she didn't live with her parents or anything like that," Littleberry said. Littleberry said Holland also went by the name Jaquarrius Brown and often used the hashtag #PrettyBrown to describe herself. 
Littleberry said Holland loved R&B singer K. Michelle. When they first met, Holland told Littleberry that she reminded Holland of the R&B songstress. Littleberry had promised to one day bring Holland to a K. Michelle concert.
Littleberry called Holland the "eyelash queen" because she always wore eyelashes out of the house. She also loved to do makeup and hairstyling. 
Littleberry set up a GoFundMe campaign to be used toward Holland's funeral. The GoFundMe uses both male and female pronouns, as Holland's family continued to use male pronouns to describe Holland. Littleberry has raised $355 out of a $5,000 goal. 
Littleberry said she started the GoFundMe campaign because she wanted to help the family. She felt Holland was like a younger sister to her and Holland taught her self-acceptance. 
"I've struggled with accepting myself and being who I am and she always helped me with that," Littleberry said. "I want her to rest peacefully. That's why I'm really excited." 
According to KARD and KTVE, a warrant charging second-degree murder was signed for the arrest of Malcolm Harvey.
People have been remembering Holland on Facebook.
Although reports of Holland's age online have been conflicted, the Ouachita Parish coroner confirmed in a phone interview with Mic that Holland was 18. 
Holland's death is the seventh reported homicide of a transgender woman in 2017, the fifth in February and the third death in less than a week in the state of Louisiana. Within the past week, Mic reported on the deaths of Chyna Doll Dupree and Ciara McElveen, both of whom were killed in New Orleans.