What's leaving Netflix in March 2017? Don't miss these 6 movies and TV shows.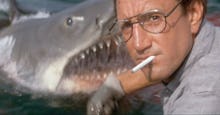 As the world keeps turning, we are almost done with yet another month in 2017. And while the year thus far has been interesting, to say the least, one thing has remained pretty consistent — there's no shortage of viewing options on Netflix (it's the small things). 
With March right around the corner, however, there will be quite a few movies and television shows leaving the streaming service. If you have not yet watched every single program on Netflix, you may want to check out a few options that will be disappearing. 
So if you don't want any streaming regrets, here are some of the best movies and television shows that will be leaving Netflix in March (via Vulture). 
Jaws (March 1)
If you have not yet seen Jaws, you are missing out. While it may now seem like summer blockbusters are routine, with a new franchise film being released nearly every week, that was not always the case. In fact, it was Jaws (and later Star Wars) that initiated the trend of studios releasing major tent-pole films over the summer. 
Jaws, though, will forever be the original summer blockbuster. Steven Spielberg's second theatrically released film is generally considered to be one of the greatest movies of all time. So, before Jaws leaves Netflix, find out for yourself how a film can be so thrilling that 1975 beach attendance actually dropped out of fear — seriously. Plus, don't you want to know why your friends always say "You're gonna need a bigger boat?"
Jaws and its three sequels will all leave Netflix on March 1. 
Justice League: The Flashpoint Paradox (March 1)
Obviously, starting out with Jaws makes everything else on this list seem like peanuts in comparison. Still, for fans of comic books and their adaptations, there are few better options than Justice League: The Flashpoint Paradox. While the live-action DC Extended Universe has had some trouble resonating with critics and fans (though it now has an Oscar winner), DC's animated films have had no such problem. 
One of the better DC Universe Animated Original Movies is Justice League: The Flashpoint Paradox. The film, which is actually remarkably violent for a PG-13 animated pic, is a tremendous adaptation of DC's company-wide "Flashpoint" story arc. For fans of The Flash, this film is a particularly interesting watch, as you can compare the two different takes on the repercussions to Barry Allen's decision to travel through time. 
Justice League: The Flashpoint Paradox leaves Netflix on March 1.
Justice League: War (March 1)
Justice League: The Flashpoint Paradox is not the only DC animated movie set to leave Netflix in March. Also leaving the streaming platform is Justice League: War. Released after The Flashpoint Paradox, War serves as the first film in a series of animated movies all set within the same interconnected universe. 
While the film, which was based on Geoff Johns and Jim Lee's Justice League: Origin, was not quite as entertaining as The Flashpoint Paradox, it's still a solid watch for fans of Batman, Superman and the rest of the Justice League. For the uninitiated, the film also serves as a decent introduction to DC Comics' library of characters.
Justice League: War leaves Netflix on March 1. 
National Lampoon's Animal House (March 1)
Jaws is not the only cinematic classic that will be disappearing from Netflix in March. One of the greatest comedies of all time, National Lampoon's Animal House, will also be leaving the streaming service. And if you have never seen Animal House, what are you waiting for? 
Selected by the American Film Institute as one of the 100 greatest comedies, Animal House is the original frat comedy. Think about this, without Animal House, there may have never been an Old School. The John Belushi-starring Animal House featured no shortage of memorable scenes, but probably none more so than the clip below. 
National Lampoon's Animal House leaves Netflix on March 1. 
Robin Hood (March 1)
When it comes to Netflix's library of television series, some of the best are from the United Kingdom. And while Robin Hood may not be as memorable as BBC shows like Luther and Sherlock, it is nonetheless a good time-killer, especially for fans of the English folk hero. 
Robin Hood starred Jonas Armstrong as the eponymous hero, with Lucy Griffiths as Marian, and The Hobbit's Richard Armitage as Guy of Gisborne. Supergirl's David Harewood also appeared as Tuck. While all three seasons of Robin Hood are currently available on Netflix, you will have to act quickly if you want to watch them all. 
Robin Hood leaves Netflix on March 1. 
Bill & Ted's Bogus Journey (March 3)
Long before he played John Wick or Neo, and even before he was making sure a bus stayed over 50 mph in Speed, Keanu Reeves was known as the slacker Ted Logan from Bill & Ted's Excellent Adventure. And while the follow up, Bill & Ted's Bogus Journey, may not fully live up to its predecessor, it's still a funny, wacky comedy worthy of your (slight) attention. 
Bill & Ted's Bogus Journey leaves Netflix on March 3. 
Mic has ongoing coverage of Netflix. Please follow our main Netflix hub here.