Stephen Colbert's 7 best Donald Trump burns on 'The Late Show'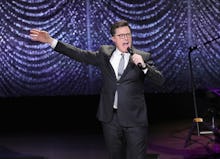 Stephen Colbert never shied away from political humor when he was the host of The Colbert Report, but in the time since he took over The Late Show from David Letterman, he seemed to have softened his approach as he struggled to find his groove. Of course, he worked in some jabs at both Hillary Clinton and Donald Trump as they campaigned for the presidency, but Colbert's monologues lacked the biting commentary he'd been known for. 
While Trump winning the election wasn't good news to many Americans, his presidency has inspired some of Colbert's best humor since the late night host moved into the Ed Sullivan Theater. Sharper, more incisive and extremely timely, the Colbert has rolled up his sleeves, taken off his gloves and taken on the most powerful man in America, with no holds barred. And people have noticed — his ratings have gone up recently, besting previous late night king Jimmy Fallon and his Tonight Show on NBC. 
Colbert has even joked about his own future in America, given how much fun he makes of its leader. As he told his viewers, who have said they want to flee America, "No marching off to your fantasy world. Don't leave me alone with this guy!" 
Here are seven of Colbert's best Trump burns since he took over The Late Show.
1. Say it to my face
Colbert didn't waste any time on his broadcast Monday night. After referring to Trump as a "heartbreaking mistake," he showed a video of Trump daring reporters to say he is a "horrible human being" to his face rather than as an anonymous source to a news outlet. Colbert immediately did just that, moving right up to the camera — and evening fogging it up by doing it.
2. Christmas in July 
Colbert kicked off the Republican National Convention with an old-fashioned, slightly out-of-date musical number poking fun at all the VIPs of the political party. No one was spared from his singing and dancing as he called Trump an "orange manatee" and named Chris Christie, Mitt Romney and Carly Fiorina in the lyrics. 
References to the party's homophobia and racism were plentiful, including a wall of "dancing delegates." Watch through to the end to see Abraham Lincoln swigging bourbon from the bottle. 
3. Explaining the unexplainable 
Colbert often jokes about Trump claiming to be a "man of the people." So when the then-candidate claimed "the people" would "figure out" what he said about President Barack Obama and the shootings at the Pulse nightclub in Orlando, Florida, Colbert said, "Since I'm a people, I think I'll take a stab at it." 
Translating Trump's logic, or lack thereof, into words proved to be a challenge, and Colbert quickly abandoned the project, saying, "I hope Trump explains it soon because until he does, it kind of looks like he's an asshole." 
4. Mocking Trump's conspiracy theories 
Colbert broke out the chalkboard again to demonstrate his theory of the one cause that lay behind all of Trump's actions. Gleefully mocking Trump's hypocrisy as well as his claims that fraudulent voters, the media, drugs and women are all against the president, he did find one simple answer, but CBS blurred it over quite quickly. Warning: This one may not be safe to watch at work. 
5. Never fjorget 
After Trump erroneously mentioned "what happened last night in Sweden" during a rally, Colbert seized upon the opportunity to poke fun at the Trump's cable news consumption as well as to create a hilarious tribute video made for those who "didn't suffer" in the nonexistent tragedy. In what is becoming the norm on The Late Show, CBS had to bleep out the suggestion Colbert offered as to what Trump has been smoking. 
6. Enemy of the American people
Colbert really let loose after Trump called the media "the enemy of the American people." Trump tore into Trump's fluid relationship with facts, complete with jabs at the crowd size of the inauguration, the quality of Trump Tower's food, Trump's history of sexual harassment and assault and even the new national security adviser's clipped manner of speaking. It's clear that by now, when making fun of Trump, Colbert has stopped wondering what he has to lose. 
7. Trump eats KFC with a fork and knife
There has been no shortage of material for jokes about Trump claiming he is a "man of the people" who "tells it like it is." Colbert seized upon the opportunities provided by the then-candidate sharing a photo of himself eating Kentucky Fried Chicken with a fork and knife. Colbert described the photo saying, "There it is: extra crispy. And some chicken." He advised Trump that eating KFC on a private jet was not the way to appeal to the everyman: "If you want to be relatable, eat lobster on a crosstown bus!" 
Mic has ongoing TV coverage. Please follow our main TV hub here.