'NBA 2K17': 5 underrated ways to level up your MyPlayer, earn badges and more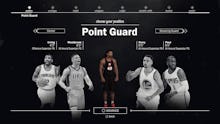 There are several ways to earn virtual currency to level up your MyPlayer in NBA 2K17, but it's easy to get locked into certain methods while neglecting others that can be equally or even more fruitful.
Here are five underrated methods to improve your MyPlayer to put him in a better position to earn badges. Best of all, you can do all of them without spending real money on VC.
How to level up your MyPlayer in NBA 2K17: Doin' Work
Kobe Bryant referred to his tireless preparation and the honing of his skills as "doin work," and that term was used to describe a similar process in NBA 2K17.
There's even a Spike Lee-directed documentary on Bryant's hard work and dedication:
Unfortunately, few gamers seem to use this method to upgrade their player in NBA 2K17. If you spend some time taking a look at most tutorials on YouTube describing the "best ways" to upgrade your MyPlayer, few if any of them refer to doin' work.
It's no get-rich-quick scheme, but completing the drills and working in the gym with your in-game counterpart renders valuable VC.
How to level up your MyPlayer in NBA 2K17: Play MyLeague
The most refined and problem-free mode in NBA 2K17 is MyLeague. It's huge and almost entirely customizable. It's also a great source for VC that can be used on your MyPlayer.
Set up a MyLeague where you control all 30 teams in the NBA. Then put the difficulty on Hall of Fame and play no less than nine minute quarters. Make yourself a schedule and over time, play all or some of the games in the season.
SixRingsofSteel demonstrates the depth of the mode in the video below:
Don't expect to do this overnight. Actually finishing the season isn't necessarily the point unless you're a franchise mode head. 
Along your journey, you will earn tons of VC while enjoying the most vast experience the game has to offer.
How to level up your MyPlayer in NBA 2K17: Play online
Have you forgotten about traditional online play? Many of us have. We're missing out on high VC potential and some fun games as well.
The games are pretty quick and if you pick a lower-tier team, you can earn close to 1,000 VC for your efforts.
How to level up your MyPlayer in NBA 2K17: Upgrade on a schedule
Set a specific amount or a day in which you spend the VC you've earned. If you spend it as soon as you get it, your upgrades are likely to be minimal.
If you play consistently, then spending VC to upgrade your player every Friday might be a good idea. Maybe you can decide to spend VC once you've accumulated 20,000 or more.
Patience and discipline will provide you with better results.
How to level up your MyPlayer in NBA 2K17: Upgrade With purpose
What are you trying to accomplish? Do you have a slasher that you're trying to make a contact-dunk machine? 
If so, understanding what will accomplish your goal is important. If you need 15 contact dunks to earn your desired badge, run plays that set you up to throw it down in an opponent's grill. 
When you're not on offense, know the other actions that improve your game score so that you can earn the highest level of VC. 
This will enable you to boost the attributes that enhance your chances of success on your quest.
Follow this process for every goal.
More sports gaming news and updates
Are you a sports gamer? Check out more content from Mic, including news on EA Sports' 2017 plans for titles like NBA Live 18 and EA Sports UFC 3. There's also details on RBI Baseball 17, and the latest patch notes on WWE 2K17's 1.06 update.