Nintendo Switch Indie Games: 'Wargroove', 'Pocket Rumble', 'Overcooked' and more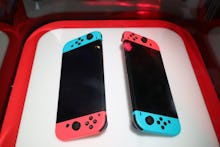 The Nintendo Switch launch games list may be more sparse than you'd prefer. But Nintendo's focus on bringing indie games to the Switch may put you at ease. The company's recent Nindies Showcase revealed what titles to expect from independent developers on the console, which means there should be plenty to do even after you beat Zelda: Breath of the Wild.
Nintendo Switch indie games: Everything announced at the showcase
The Nindies announcement revealed many games for Nintendo Switch owners to get excited about. The much sought after Yooka Laylee saw some love from Nintendo as the company confirmed its arrival to the Switch in 2017. Steamworld Dig 2, the follow-up to the popular indie game from 2013, will make its way to the Switch this year as well. 
Here's the full list of indie Switch games announced:
• Runner3 by Choice Provisions
• SteamWorld Dig 2 by Image & Form Games
• Yooka Laylee by Team 17 and Playtonic Games
• Blaster Master Zero by Inti Creates
• Pocket Rumble by Chucklefish Games and Cardboard Robot Games
• Flipping Death by Zoink Games
• Mr. Shifty by tinyBuild and Team Shifty
• Wargroove by Chucklefish Games
• Stardew Valley by Chucklefish Games and ConcernedApe
• Shakedown Hawaii by vBlank
• Graceful Explosion Machine by Vertex Pop
• Tumbleseed by aeiowu
• Overcooked: Special Edition by Team 17 and Ghost Town Games
• The Escapists 2 by Team 17 and Mouldy Toof
• GoNNER by Raw Fury and Art in Heart
• Kingdom: Two Crowns by Raw Fury and Noio
• Dandara by Raw Fury and Long Hat House
These will join Shovel Knight and Fast RMX on the Switch. We don't get specific release dates for many titles, but towards the end of the video, Nintendo's Damon Baker claims that gamers can expect new additions to the eShop each week.
Check out the full announcement below:
More Nintendo Switch news and coverage
Looking for more Nintendo Switch news? Check out our comparison photos sizing up the Switch to the Wii U GamePad (part one and part two) and the best way to get alerts when new stock arrives. Then take a look at a leaked video of the Nintendo Switch menu interface and dark mode features. 
If you're just getting caught up, here's everything you need to know about the console's price, release date, preorders, battery life and our hands-on review. And if you're interested in the Nintendo Switch's games, here's info on the new Super Mario Odyssey, Legend of Zelda: Breath of the Wild, Splatoon 2, Xenoblade Chronicles 2, 1-2-Switch and the goofy boxing game Arms.