Nebraska Senate advances bill for state-issued "Choose Life" license plates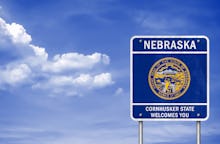 Nebraska state legislators are trying to put their anti-abortion message on wheels.
According to the Associated Press, senators have advanced a bill that would require Nebraska's Department of Motor Vehicles to design and issue license plates that say "Choose Life."
The new plates would cost $5 more than the state's standard license plates, with proceeds going to supplement funding for Temporary Assistance for Needy Families, a federal program that provides financial assistance for food, shelter, utilities and other necessities.
Nebraska wouldn't be the first state to pass a bill allowing for the politically charged license plates.
According to a map on Choose Life's official site, the plate tag is currently available in 28 states as well as Washington, D.C.
In March 2016, the 4th Circuit Court of Appeals ruled that the state could issue its own "Choose Life" plates, but reserved the right for the state to reject any messages with which the state disagrees, Fox News reported.
In 2011, the North Carolina General Assembly passed legislation that allowed the expression of anti-abortion sentiments on state license plates, but rejected requests to feature tags like "Respect Choice."
There's been some dispute over whether the messages should be seen as a government endorsement. While Chief Judge William Traxler ruled that "speciality license plates" issued by North Carolina "amount to government speech," some argue customized license plates shouldn't be associated with the state.
"A person who sees a North Carolina 'I'd Rather Be Shaggin'' specialty plate during Monday morning rush hour surely does not routinely and reasonably believe that such a plate embodies the State of North Carolina's credo," appeals court Judge James Wynn wrote in his dissenting opinion to Traxler's decision.
Sure — retweets aren't always endorsements. But in Nebraska, a state with a 20-week ban on abortion, it's clear state legislators may, in fact, actually just be urging residents to "choose life."