'Pokémon Stars' Release Date: YouTube put Pokémon on the Switch and we can't stop staring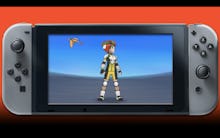 The Nintendo Switch comes out later this week but many are more concerned with the Pokémon Stars release date. Neither Nintendo nor the Pokémon Company have yet to announce firm details — they're probably too busy hiding evolution items from Pokémon Go players — but many are hopeful. The Pokémon Company's CEO Tsunekazu Ishihara has spoken openly about a Pokémon game for the Switch and every other Nintendo handheld before this one has received a game from the series. Outlook is hopeful.
But in the meantime, we bide our time with HD renderings of Pokémon Sun and Moon, potential release date announcements and YouTube videos that play video from the current Pokémon games onto a Nintendo Switch. Because even though we know it's simply the 3DS game superimposed onto a picture of the Switch, the visual alone looks so damn enticing.
Pokémon Stars release date: Pokémon on the Nintendo Switch is mesmerizing
The video comes to us from YouTube user Blunty. The upload gives a recap of Pokémon Stars news up until now. Blunty references the Wall Street Journal article where Ishihara promises to make games for the Nintendo Switch, the potential graphical upgrade the games would receive when ported to the Switch and how that may not be as easy as it seems. 
For fans, seeing Pokémon Sun and Moon played on top of a Switch unit is quite the sight. But the visuals in the action game, if rumors are to be believed, would look better than what's offered on the 3DS edition of the game. On the one hand, we could see much clearer models of the visuals already offered (much like the fan-made, 1080p version). Or Pokémon's developer Game Freak could completely revamp the games for the Switch — a less likely option considering the amount of work and time needed.
Pokémon Stars release date: Fan-made videos are all we have for now
Few outside of Nintendo know when we can expect Stars. And Nintendo's release plans for first-party titles are mostly laid out already with Splatoon 2, Mario Kart 8 Deluxe and Super Mario Odyssey all coming in 2017. With Pokémon being the big seller that it is (Sun and Moon sold loads and even broke sales records), Nintendo may want to space out their releases so folks have reason to buy the Switch in 2018.
We won't know for sure, possibly, for some time. Fans will need to keep their fingers crossed in hopes of seeing something at this year's E3.
Check out the entire video by Blunty below:
Check out more of our Pokémon Stars release date coverage
Check out Mic's guides for picking the right starter, Pokémon Sun and Moon cheats, using a damage calculator, how to catch the new legendary Pokémon, how to customize your character, how to use QR codes and picking between Pokémon Sun and Pokémon Moon.