In leaked video, Uber driver takes CEO Travis Kalanick to task over lower pay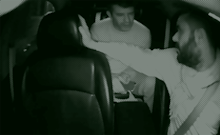 For Uber, the last few months have been a time they'd probably like to forget. Between allegations of sexism within its ranks, the #DeleteUber and immigration ban situation and a self-driving car running multiple red lights, Uber can't seem to escape bad press. Now, a leaked video obtained by Bloomberg shows CEO Travis Kalanick vehemently arguing with an Uber driver over how much he pays the fleet.
The driver, Fawzi Kamel, who's been driving for Uber since 2011, tells Kalanick, "I lost $97,000 because of you. I'm bankrupt because of you."
Kalanick fires back, "Some people don't like to take responsibility for their own shit. They blame everything in their life on somebody else."
After the ride, Kamel gave Kalanick a one-star rating, Bloomberg reported.
Before this confrontation, which starts around 5:25, the conversation is more civil. Here's a brief excerpt:
Travis Kalanick: "So, we are reducing the number of black cars over the next six months. You probably saw some of the emails."
There are a few other memorable moments as well. Watch out for Kalanick's intense manspreading — he sits in the middle seat with two female companions on his right and left — and his dance moves to The Weeknd's "I Feel It Coming" at 2:45.
Mostly, it's a jaw-dropping example of an employee finally getting a chance to speak his mind to the CEO and never backing down. "People are not trusting you anymore," Kamel tells Kalanick. After Kalanick slams the door and says "good luck," Kamel repeats it back — but adds, "but I know you're [not going] to go far."