Nicki Minaj may actually have been dissing Azealia Banks, not Remy Ma, on "Make Love"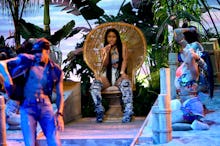 Remy Ma snatched the wig off just about every hip-hop head Saturday afternoon when she dropped "ShETHER," her venomous Nicki Minaj diss track. The nearly seven-minute track came for Minaj from every possible angle, bringing to light a series of alleged infidelities, plastic surgery rumors and accusing Minaj of just about every hip-hop sin in the book. 
It was a coup de grace in a long line of back and forth disses the two MCs have been spitting at one another for years, seemingly amplified by two recent Minaj's verses, one on Gucci Mane's "Make Love" and the other on Jason Derulo's "Swalla." 
In unpacking the potential Remy disses in the first song, many to pointed lines like "Oooohhh, oh you the qu-e-e-the queen of this here?/ One platinum plaque, album flopped, bitch, where?" as referring to Remy Ma and Fat Joe's "All the Way Up," which was certified platinum last August, but didn't offer its accompanying album, Plata o Plomo, much sales play.
However, others taking a deeper look at the lyrics since have offered that Minaj might not have been coming for Remy at all. There's lyrical evidence to suggest that known Minaj-basher Azealia Banks may have been the Pinkprint rapper's real target. The "ShETHER" retaliation may have been a bit premature.
The "qu-e-e-the queen" line could just as easily refer to a recent Minaj and Banks Facebook spat, in which Banks demanded Minaj stop calling herself "the queen of rap."
"Queens don't wear spandex sweety," Banks wrote to Facebook. "Marketing genius yes, but your cheap made in China perfume smells like car freshener and your beverage tastes like kitchen cleaner."
Banks' also had a similar hot single but flop album, like Ma. "212," Banks' breakout single went platinum in the UK, but couldn't push her debut album Broke with Expensive Taste above 11,000 in first week sales.
Additionally, Minaj seems to nod to Banks' album title in the lines: "She ain't eatin' but I swear she got some bum ass taste." A line later, playing off the "broke" part and the recent rumors Banks is scrambling for cash, Minaj raps: "Pay your rent! And stay in your bum ass place."
Even though Ma was the one to claim Minaj's lines were directed at her and drove the pitchfork into Minaj's street cred, Banks was all the way here for it, inserting herself right into the middle of the beef.
As these disses fade into history, the scene-stealing savagery of Remy's "ShETHER" has all but assured that no one will ever look at Minaj's "Make Love" and hear anything besides Remy shade. 
At this point, it's looking unlikely that Minaj will respond or clarify her instigating disses. But perhaps there's a lesson in it all. If she was coming for Banks, the next time Minaj throws shade perhaps she'll be more precise with her rhymes.
Mic has ongoing Nicki Minaj coverage. Follow our main Nicki Minaj hub here.