This Muslim Marine is offering to stand guard for Jewish cemeteries, synagogues in Chicago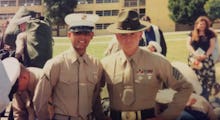 After a wave of anti-semitic violence, particularly the vandalism of two Jewish cemeteries in Philadelphia and St. Louis, Tayyib Rashid knew it was time to step up.
Rashid, a veteran, who calls himself as the "Muslim Marine," sent out a tweet on Monday offering to stand guard for any Jewish synagogue, cemetery or organization. 
Rashid knew he had to do more to help out his Jewish neighbors and that's why he fired off his now-viral tweet.
"As I watch this horrible thing unfold here, I felt terrible about what happened in St. Louis and this heinous event in Philadelphia," Rashid, 40, said in a phone interview. "I was moved to tears. This is absolutely not right."
After learning about the vandalism at the Jewish cemetery in Philadelphia, Rashid said Ahmadi Muslims went out to help restore the cemetery. Ahmadiyya, a religious movement, emerged from the Sunni tradition, the largest sect of Islam, in 1889. He said that if similar incidents were to happen in Chicago, he could bring out about 100 people to help repair the cemetery or synagogue.
For Rashid, seeing reports of desecrated graves and bomb threats toward synagogues hit close to home.
"I honestly know what it feels like to have graves of your family members desecrated like that," Rashid said. "I'm a member of the Ahmadiyya community. Ahmadis, in Pakistan and from Pakistan, are heavily persecuted."
Ahmadi Muslims, who primarily reside in Pakistan, face religious persecution — often systemic violence — in countries in the Middle East and South Asia. While Ahmadi Muslims believe in the five pillars of Islam and all principles of the faith, they are often deemed as "non-Muslim" or accused of perverting Islamic theology since believers consider Mirza Ghulam Ahmad, born in 1835 in Qadlan under the SIkh Empire, as the long-awaited Messiah for Muslims. Mainstream sects of Islam, on the other hand, require Muslims to believe Muhammad as the last Messenger of God.
Rashid said that in Pakistan, where he was born and lived until he was 10, Ahmadi Muslims were often imprisoned for calling themselves Muslims and killed by vigilantes. 
"The graves of our deceased are often desecrated [or] even when the verse of the holy Quran were written on those graves," he said.
The Muslim Marine said that he has received an overwhelming number of responses from Jewish Twitter users, who are thanking him for his offer and also expressing their solidarity with the Muslim community in the wake of President Donald Trump's executive order banning travel to the U.S. from seven Muslim-majority countries. 
Rashid wanted to point out Muslims in solidarity with their Jewish neighbors is not out of the ordinary. In fact, he said Muslims have far more in common with the Jewish people than they have differences.
"Any differences that people like to highlight between our two faith communities is not on the basis of religion, but rather in politics," he said.
Rashid also has a message for those responsible for the waves of anti-semitic attacks across the country.
"If you truly want to establish peace in the world, you have to learn to look at the world through the realities of the oppressed," Rashid said. "If we want to establish peace and live in a country of values and principles of the constitution, we have to engage in dialogue and efforts to hear out one another."