Donald Trump is supposedly mulling a huge reversal on deporting undocumented immigrants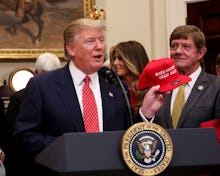 President Donald Trump — who recently released an aggressive plan subjecting all of the estimated 11 million undocumented immigrants in the U.S. to possible deportation — teased a different approach on Tuesday, suggesting he is open to letting some of those immigrants stay.
The New York Times reported at a meeting with television anchors at the White House, Trump said "the time is right for an immigration bill as long as there is compromise on both sides."
Though the New York Times characterized the discussion as indicating the president's openness to a path to legal status for undocumented immigrants, Trump apparently did not elaborate on the remark. But CNN wrote a "senior administration official" said the president is "eager" to pass a bill that would not allow full citizenship for undocumented immigrants, but allow those who had not committed crimes to "to live, work and pay taxes in the U.S. without fear of deportation."
The "senior administration official" was none other than Trump, who requested to speak on background, BuzzFeed reported.
Any switch to a policy in which immigration authorities allow some undocumented immigrants to remain in the country would fly in the face of Trump's campaign promise that they would receive "no amnesty."
What's more, it's not the first time Trump has supposedly entertained the possibility of changing his tune on immigration.
On the campaign trail in August 2016, after floating another supposed pivot, Trump confirmed he had not changed his hardliner status at all by telling a crowd in Arizona "Those here today illegally who are seeking legal status, they will have one route and one route only: to return home and apply for re-entry like everybody else under the rules of the new legal immigration system that I have outlined today."
Any such proposal would face a rocky road in a Republican-controlled Congress, which is still stalled attempting to find a replacement to former President Barack Obama's signature Affordable Care Act. GOP legislators are still mired in infighting over how to repeal the ACA and what to implement in its place, and adding a major fight over one of the party's touchiest issues might only anger the party's conservative wing and encourage the ongoing logjam.
Whether the president is truly considering reversing course may become clear as early as this evening, when Trump is scheduled to give a State of the Union-style address to the nation at 9:00 p.m. Eastern.