Here are the biggest lies, mistruths and "alternative facts" from Trump's joint address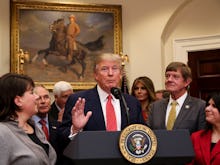 President Donald Trump is addressing a joint session of Congress on Tuesday night in a State of the Union-esque speech. The president is expected to muse on current events, outline his administration's objectives and make the case for his nascent presidency's policy agenda.
Of course, this being the factually-challenged Trump the nation has come to know so very well, fact-checkers across the U.S. are standing ready to identify whatever "alternative facts" come down the pipeline. Follow Mic's live vetting of the president's speech below.
9:11 p.m.: "A new surge of optimism is placing impossible dreams firmly in our grasp."
Polls show Americans are broadly anxious about the future of the U.S. under Trump.
9:16 p.m.: Trump name-checks companies he says have kept jobs in the U.S. under his presidency
According to the New York Times, several companies which the president is taking credit for personally convincing to keep or create jobs in the U.S. were actually just following through on previously announced plans, including Sprint (owned by Softbank) and Chrysler. 
Trump has cited misleading numbers of jobs he supposedly saved at Carrier, an air conditioning manufacturer.
9:22 p.m.: Trump claims enforcing immigration laws will make Americans safer
"By finally enforcing our immigration laws, we will raise wages, help the unemployed, save billions of dollars, and make our communities safer for everyone," Trump said.
On the last point, multiple studies have concluded immigrants commit less crime than U.S. citizens, according to the New York Times. According to the Times, census data shows immigrant men aged 18-49 are one-fifth to one-half as likely to face incarceration as natural-born citizens, while non-citizens (comprising 7% of the population) are only 5% of the state and federal prison population.
9:25 p.m.: Trump misleads on his role in saving money on the F-35 program
While Trump has touted his supposed role in saving $700 million on the much-criticized, $1 trillion-plus F-35 Joint Strike Fighter program, according to Politifact, program costs have been coming down for years.
9:27 p.m.: Trump defends his immigration policy, saying U.S. cannot afford a "beachhead of terrorists" or "sanctuary for extremists"
No nationals from the seven countries specifically banned from entering the U.S. by Trump's executive order have committed terror attacks resulting in U.S. fatalities since 1975 and his plan would do little to prevent terrorism, which is mostly homegrown.
9:29 p.m.: Trump cites highly misleading figures on the labor force
As Politico's Michael Grunwald noted, the vast majority of those in the 94 million figure are not typically considered working constituencies, including the elderly, students as young as 16, full-time students, stay-home parents and people who live off of investment income.
9:55 p.m.: "According to the National Academy of Sciences, our current immigration system costs America's taxpayers many billions of dollars a year."
According to the New York Times, the study in question actually concluded immigration results in "positive net benefits to the U.S. economy during the last two decades of the 20th century." According to the study, "The infusion of human capital by high-skilled immigrants has boosted the nation's capacity for innovation, entrepreneurship and technological change."
It also concluded that while first-generation immigrants create a net government cost of $57.4 billion, second and third-generation adults "create a benefit of $30.5 billion and $223.8 billion, respectively."
10:00 p.m.: Trump says Keystone XL and Dakota Access pipelines will create tens of thousands of jobs
As the Washington Post noted, while Montana, South Dakota and Nebraska would each hire between 2,700 and 4,000 construction workers to complete the pipelines, and Kansas would hire 200, the average length of those jobs would be just 19.5 weeks. According to Politifact, the Keystone XL pipeline would only create 35 permanent jobs.
10:04 p.m.: Trump says the Yemen raid produced actionable intelligence
Trump claimed a recent Yemen raid which resulted in the death of a U.S. Navy SEAL and 30 civilians, including children, claimed "large amounts of vital intelligence." One report citing senior officials, however, contested that account and said no significant information was recovered. The target of the raid, Qassim al-Rimi, escaped the assassination attempt and reportedly recorded an audio message mocking Trump as the "fool of the White House."
10:39 p.m.: Trump fails to mention violent crime is at historic lows
"The murder rate in 2015 experienced its largest single-year increase in nearly half a century," Trump said. "In Chicago, more than 4,000 people were shot last year alone — and the murder rate so far this year has been even higher. This is not acceptable in our society."
As the Washington Post noted, Trump's claims here are, strictly speaking, correct. 2015's murder rate increased more in a single year than it has since 1970-1971, and 2016 saw increases in homicide rates in the nation's largest 30 cities (largely attributable to Chicago).
But there's the straight statistics Trump cited, and then there's the context in which those numbers are occurring, which the president left out of his speech. As FactCheck.org noted in July 2016, violent crime overall was at its lowest rate since 1970, and it's fallen even faster in recent decades.
In 1991, the violent crime rate stood at 758.2 per 100,000 people; in 2014, it was 365.5 per 100,000 people.
The murder rate is also at historic lows, standing at 4.5 per 100,000 people in 2014 — the lowest rate since 1960, not including the Sept. 11, 2001 terror attacks.
This is a breaking news post and will be updated.