Melania Trump dons $10K glittery Michael Kors dinner jacket and skirt at Trump's joint address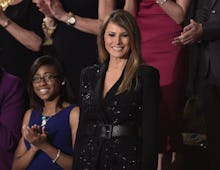 The first lady wore black.
To witness her husband deliver his first joint address to congress, first lady Melania Trump wore a black glittery embroidered Michael Kors jacket and skirt. 
Both pieces are from Kors' ready-to-wear collection available online for a cool $10,000 (the floral-embroidered stretch pebble-crepe dinner jacket retails for $4,995 and the sequined-floral front-slit pencil skirt for $4,595).
"Mrs. Trump has been a longtime client at our New York boutique," Michael Kors said in a rare statement to Vanity Fair. She has a keen understanding of what works best for her and her lifestyle. My embroidered black suits reflects the streamlined glamour that she is known for."
Variations of the outfit have been seen on recent red carpets worn by Academy Award-winner Emma Stone and Chrissy Teigen.
Michael Kors along with fellow designers Rebecca Minkoff and Jeremy Scott in haven't taken a side in the divisive "will they/won't they" discussion that has surrounded so many designers with regard to whether or not they would dress the first lady.
"That's none of my business," Michael Kors  told the Cut. His clothes have been seen on both Melania Trump and Michelle Obama.
Trump's outfit — which was likely purchased as opposed to being gifted by the brand — could not have been a more stark contrast to the sea of white throughout the room displayed on Democratic women, a nod to the suffragettes of the late-19th and early-20th centuries.