Maxine Waters refused to attend Trump's address. Here's what she thought of his speech.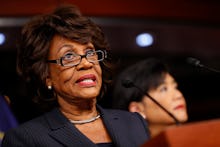 Rep. Maxine Waters (D-Calif.), prior to Donald Trump's address to a joint session of Congress, said she could not "honor" the president with her presence — and would boycott the event. So the congresswoman watched Trump's speech from her Capitol Hill office and spoke with Mic to offer her reactions afterward. 
"We still don't know what to believe," Waters said of Trump's speech. "Because of the distrust for Donald Trump, people listen to his words, but they're waiting to see the actions. The words sound pretty empty to those of us who learned to distrust him."
Waters said, at the joint address, Trump's rhetoric was toned down. The president's speech was widely cited as his most professional since he launched his White House campaign in 2015. But she still had questions on Trump's ability to meet promises, such as the border wall or repealing and replacing the Affordable Care Act. "We really don't know how this plan is going to come together," Waters said.
The California congresswoman said questions about Trump's ties to Russia will continue to dog him, and that Republican congressmen and senators cannot be trusted to investigate Trump thoroughly. "It's going to be harder for the Republicans to defend him," Waters said. 
Waters, one of the two most senior of the 20 black women in Congress, who has represented part of Los Angeles since 1991, closed with a pledge to continue her fight. "I know that they don't intend to, basically, give us anything. We're so far apart philosophically that I don't expect anything from them," Waters said. "So my job is to fight, fight, fight them." Watch Waters' full interview with Mic below.
Correction: March 1, 2017 
A previous version of this story misstated Rep. Maxine Waters' ranking among black women members of Congress. Waters is one of the two most senior among the 20 black women currently serving in Congress.