Trump reportedly delayed signing his new ban in order to give his speech its own "moment"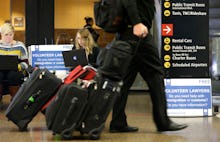 Late Tuesday, the Trump administration abruptly pulled Iraq from a list of seven majority-Muslim nations whose citizens were to be subject to a temporary travel ban to the U.S., the Associated Press reported. 
Iran, Libya, Somalia, Sudan, Syria and Yemen will remain on the list, which was compiled during the administration of former President Barack Obama and, according to the Trump White House, was intended to limit the possibility of a terror attack on American soil.
Four officials say the administration's decision "followed pressure from the Pentagon and State Department," the AP reported. They urged the White House to "reconsider Iraq's inclusion given its key role in fighting the Islamic State group" — the terror outfit known as ISIS that has taken over large swaths of Syria and Iraq.
Trump's original travel ban ran aground in February, when a panel of three federal judges ordered a stay until the courts could determine its legality.
The new president, despite strong opposition from critics who claimed the ban was tantamount to a forbidden religious test, defiantly vowed to forge on with a new order blocking travelers — including refugees — from the seven nations.
However, shortly after Trump concluded his first address to a joint session of Congress Tuesday, CNN's Jeremy Diamond quoted a senior administration official saying the signing of the ban would be delayed from its scheduled Wednesday slot until "later this week," so it could have its own "moment."
A presidential schedule emailed to the press shortly after 11 p.m. made no mention of the signing of any executive orders.