Snapchat founder Evan Spiegel net worth, IPO and more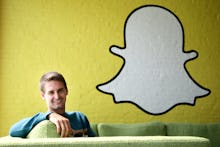 As cofounder and CEO of Snap Inc., Snapchat's parent company, Evan Spiegel has launched himself into massively affluent means since Snapchat's debut in 2011, closely mirroring Mark Zuckerberg's rise as the creator of Facebook. In 2016, Spiegel was named the tenth richest American entrepreneur under 40 according to Forbes, and his placement on that list is looking to move up a few spots.
Snap Inc. is expected to price its initial public offering on March 1 and will list the stock on the stock market March 2, according to CNBC. This could make the company worth $18 billion and more than double 26-year-old Spiegel's net worth.
Even without the IPO, Spiegel's net worth already stands at $2.1 billion as a "paper billionaire," reported CNBC. In comparison, Mark Zuckerberg, who Spiegel seems keen to model himself after, had a net worth around $17 billion just before he took Facebook public in 2012, which then jumped to $19.1 billion overnight, according to Fortune. Zuckerberg has since increased his net worth to $50 billion.
But an IPO in the tech world, even if it would give Spiegel at least a cool $588 million according to Bloomberg and as much as $750 million according to Recode on opening day – vested and doled out to him in increments over the course of three years – is a challenging move that requires prospective shareholders to instill a lot of trust in Spiegel. Twitter has faced an uphill battle with shareholders ever since it went public in 2013, and as the last U.S. social media company to go public, sets a difficult precedent for Snapchat.
It doesn't help that Spiegel is so obsessed with his privacy that he has almost zero public image: As CNBC noted, the "the easiest way to find pictures of Spiegel online is to follow his fiancée, Australian model Miranda Kerr." Spiegel's privacy leaves a lot to future investors' imaginations in gauging the value of throwing their hat in Snap's ring.
Adding to investors' concerns, Marketwatch noted that the co-founders' decision to maintain a majority of voting power (88.6%) in the company is an "extreme" that makes potential investors concerned about their lack of say in company direction. As Ryan Roberts, a partner at Roberts Foster LLC, noted, that structure "can set off a red flag to a potential investor or hire that the founder already thinks he or she is Mark Zuckerberg." Roberts' criticism stems from the fact that neither Spiegel nor Murphy have experience running a public company.
"Just because Spiegel has some similarities to previously successful young founders-turned-executives," says Marketwatch, "does not mean he will turn out to be an industry legend, or that he can be trusted to always make the correct decision for the life of his company."