Casey Affleck makes new statement about sexual harassment allegations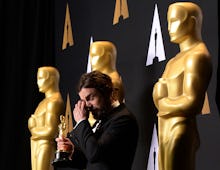 Casey Affleck has remained infamously quiet since the sexual harassment allegations against him resurfaced this Oscars season. But in the wake of his best actor big win Sunday night, the Manchester by the Sea star made a rare statement about the controversy surrounding him in an interview with the Boston Globe.
The harassment suits, brought by two female members of the crew on his film I'm Still Here, allege that Affleck made both inappropriate comments and sexual advances on the plaintiffs in question. Because the suits were settled, none of the parties involved can publicly comment on them directly. But Affleck, after noting to the Globe that "none of the people who are condemning him online know what happened," spoke about the allegations in a general sense:
I believe that any kind of mistreatment of anyone for any reason is unacceptable and abhorrent, and everyone deserves to be treated with respect in the workplace and anywhere else. ... There's really nothing I can do about it. Other than live my life the way I know I live it and to speak to what my own values are and how I try to live by them all the time.
The allegations against Affleck became a point of contention during Oscar season, as some — including Fresh Off the Boat star Constance Wu — argued that no matter the quality of the actor's performance, to award him Hollywood's highest honor would be to validate his behavior as well.
Reaction to Affleck's latest statement was swift and unamused.
Mic has ongoing Oscars coverage. Please follow our main Oscars hub here.