Chicago had no snow in January or February for the first time in 146 years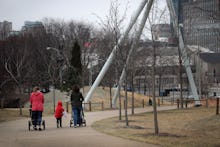 Guess it's a good thing it wasn't nicknamed the Snowy City: For the first time in almost 150 years, Chicago had no snow throughout the months of January and February, NBC reported.
According to the National Weather Service, Chicago has received annual snowfall levels, in inches, deep in the double digits almost every year since record-keeping began. Since 1884, the single double-digit exception was July 1920 through June 1921, which saw 9.8 inches. 
During the 2015-2016 year, Chicago saw 31.2 inches of snow, but the 2016-2017 year may very well fall below that. The first measurable snowfall in Chicago was on Dec. 4, which dropped at least 6 inches of snow around the Chicago area. 
According to NBC, the last snowfall was on Dec. 25.
NBC noted that the lack of snowfall has "thrown Windy City residents for a loop": There was a marked increase in instances of crime and violence from the same period last year; the Brookfield Zoo saw more than five times the February visitor average; and even a local ice cream shop opened its doors weeks earlier than usual. Snow plows and salt trucks ready to service over 280 snow routes went unneeded, leaving some businesses hurting.
Trimaine Wilson, who owns a snow plowing company, told NBC that the unusually warm weather has cost his company almost $75,000. "It's been rough, we've had bills to pay with no work," Wilson said, adding that the company was able to keep its doors open because "we had some people pre-pay for the winter so we've been using that to maintain and stay open."
WGN-TV meteorologist Tom Skilling told the Chicago Tribune that the abrupt shift in snowfall — also known as a "snow drought" — is the result of rapidly increasing climate change that could pave the way to monstrous snow storms that show up late to the party in March and April: "This is occurring against a backdrop of a changing climate," Skilling told the Tribune.
But don't put away those heavy coats and snow boots just yet. The Weather Channel anticipates afternoon snow showers in the area later Wednesday and Thursday. 
Looking forward, the National Weather Service noted on its Facebook page that the window for massive snowstorms in March and April is still wide open. 
As Skilling told the Tribune, "I think the door is open to additional unusual weather events as we go forward."