'Beauty and the Beast' includes Disney's first queer character. Here's why we're worried.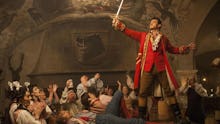 Taken at face value, Attitude magazine's "world exclusive" that Disney's Beauty and the Beast remake will "make Disney history with gay character" is pretty exciting. The studio that has alluded to LGBTQ characters in their films, but never actually included them, is finally breaking ground! How thrilling.
Then, reading the article, it seems Attitude has overstated a bit. While LeFou, sycophantic sidekick to Beauty and the Beast antagonist Gaston, does seem to be queer, he hardly seems like an out gay character — and it looks like most of his story will be about fawning over a straight man.
"LeFou is somebody who on one day wants to be Gaston and on another day wants to kiss Gaston," said director Bill Condon. "He's confused about what he wants. It's somebody who's just realizing that he has these feelings. And Josh [Gad] makes something really subtle and delicious out of it. And that's what has its payoff at the end, which I don't want to give away. But it is a nice, exclusively gay moment in a Disney movie."
On the one hand, progress is progress, and this "exclusively gay moment" — whatever that means — will likely lead to more and more inclusive stories moving forward. LeFou is a canon Disney character, so making him queer is a distinctly LGBTQ-friendly modification to the studio's canon.
On the other hand, are you kidding us, Disney? The first queer character in any of your movies is obsessed with the straight villain of the movie?
Look, it is certainly true that closeted gay, bi and queer men harbor crushes on straight men. (I'm speaking from deeply personal experience here.) But that is not the defining experience of queerness — not by a long shot. That's not to say that Disney has to reflect that universal truth of it, but it is a suggestion that they look beyond this most base element and go deeper.
For what it's worth, Condon's statement about a "payoff at the end" — the "exclusively gay moment in a Disney movie" — could be referring to some kind of gay redemption that sees LeFou break out of his crush on a straight man and find love of his own. But pardon me if I'm tempering my expectations.
We'll find out exactly what it means when Beauty and the Beast hits theaters March 17.
Mic has ongoing Beauty and the Beast coverage. Follow our main Beauty and the Beast hub here.