Mack Beggs, trans teen boy wrestler on winning girls' state title: "The booing died out"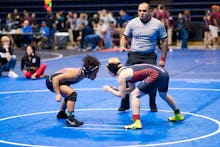 Not everyone is a fan of Mack Beggs. Because of a backward Texas policy, the transgender teen boy has been forced to wrestle on the girls' team. And that doesn't sit well with everyone. 
Throughout his undefeated season wrestling for Euless Trinity High School, Beggs' presence at tournaments was met with boos and jeers. One parent, who alleged Beggs' hormone therapy treatment gave him an unfair edge over his female competitors, brought a lawsuit against the athletic body in charge.
Before Beggs' could even take the mat at his regional qualifying match on Feb. 18, two of his opponents forfeited. One of whom did so at the instruction of a coach who feared her athlete would get hurt wrestling Beggs.
After all of this fuss and furor, it's easy to imagine that when the high school junior stepped up to the mat for the girls' state championships on Saturday he'd have been nervous. Maybe he felt that all eyes were on him for all of the wrong reasons. Maybe he thought that people were waiting for him to fail, or for him to injure one of his female opponents.
But Beggs didn't hold back. He left it all on the mat, and he won, 12-2. And as he inched closer to the title, something incredible happened.
"I was getting both cheering and booing, but the booing died out after a while because there was more cheering," Beggs said Tuesday. "That was the moment I knew I had more people supporting me than ever."
Beggs said he doesn't count his championship title as less-than because he won competing against girls. The victory is his, and he earned it.
"I worked so hard the last three years to get where I'm at, and in that moment I just felt that it finally paid off — my hard work finally paid off."
When Beggs came out as trans his freshman year, he knew that eventually the question of which team he would wrestle on would pose a conflict. But he said no one had put up much of a stink over his playing on the girls' team — until this season when he started winning.
"The only reason they're making a big commotion is because now I'm successful," Beggs said. "Now that I've gotten better, now that I've worked on my technique and worked hard, they're like, 'Oh we have to blame it on something.'"
Beggs couldn't help but think that the commotion over him wrestling girls wasn't just discriminatory against him, but against his female opponents, too.
"It makes me upset that, OK, so what are you saying? That Texas girl wrestlers aren't capable of wrestling guys?" Beggs said. 
As Beggs has mentioned before, it's not so much his peers who have a problem with wrestling him. The female wrestlers in his weight class, he says, are his friends. They talk, hang out. And, what's more, they'll wrestle whomever a referee puts in front of them without a second thought. It's coaches and parents who have let their ignorance and fear cloud their better judgment, Beggs said.
"Anyone who boos a 17-year-old — no matter what their issue is — it's just not right," Beggs' stepdad Damon McNew said Wednesday. McNew said the booing was as its worst during Friday's match, but that he and his family just kept on cheering louder until it stopped. 
"Mack isn't going to hurt anyone," McNew emphasized. "People need to educate themselves, because I did."
Beggs said he doesn't think people "want to understand" what it means to be trans. Instead, many coaches and parents have been content to get caught up in assumptions at the expense of both himself and his opponents.
"They didn't even ask, 'Hey, what's the situation with this?'" Beggs said. "They just assumed. And that affected those girls who forfeited. ... They took them away from wrestling and they took me away from my competition."
We frequently see misguided fears about trans people harming women and girls being used as justification for discrimination and general ill will toward the trans community. As the debate over which bathroom trans people should use rages on in state legislatures, concerns over women being "molested or assaulted" remains the primary argument of many on the right.
Beggs' case is, of course, not quite parallel to the trans bathroom debate (though, for what it's worth, Beggs must also use the girls' locker room and bathroom at his public high school). Even McNew said he understands the concerns of parents who are hesitant to let their daughters go head-to-head with his stepson. 
But there's a simple and obvious solution to the outrage over Beggs wrestling girls: Let him wrestle boys.
"It would mean everything to me," Beggs said. 
His stepdad agreed. "I support him 100%," McNew said. "I'll do whatever he needs me to do to help him accomplish his goals." 
The 17-year-old isn't hopeful that he'll ever be able to do that at the high school level. According to Beggs, the state's University Interscholastic League policy mandating that athletes must participate on teams that match the sex on their birth certificates will remain in place for his senior year. (The UIL was not immediately available for comment.)
But there is a glimmer of hope on the horizon for Beggs. This summer, he'll attend a USA Wrestling freestyle and Greco-Roman wrestling program, where he'll be allowed to compete in the male division. 
"You can't let ignorance and bigotry ruin what you want to do in life," Beggs said. "You just gotta go out there and play."