'The Flash' season 3, episode 15 spoilers: What will happen in "The Wrath of Savitar"?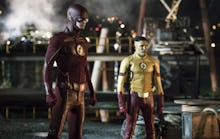 In Tuesday night's The Flash, Barry Allen and the rest of his team had to defend Central City from a Planet of the Apes-like Gorilla invasion. "Attack on Central City" forced Barry to wrestle with some darker thoughts as he contemplated killing Grodd as a way to change the future and hopefully save Iris' life. 
Obviously, since The Flash is considerably more lighthearted than Arrow, Barry was able to find another way to save Central City from Grodd and his army of sentient gorillas. And following the team's victory, with the help of Earth-19's Gypsy, love was in the air. 
Not only did Gypsy and Cisco have a hot and heavy moment, but Jesse officially moved to Earth-1 to be with Wally and, oh yeah, Barry proposed to Iris! Unfortunately, it seems like all these love affairs will be short-lived, because in season three, episode 15, the Flash's most dangerous enemy yet, Savitar, will be making his return. 
In the later moments of "Attack on Central City," Wally West catches a glimpse of Savitar while out grabbing some burgers for his new girlfriend. And while it seems like the evil speedster may initially be playing mind tricks, things are bound to get a lot more dangerous very quickly. If you need a little bit more from The Flash before next week's episode, here is the official synopsis, via Spoiler TV, for season three, episode 15, titled "The Wrath of Savitar":
Savitar visits Wally: While training with Barry (Grant Gustin), Wally (Keiynan Lonsdale) starts to have visions of Savitar, which he hides from the team. A dangerous secret threatens Barry and Iris' (Candice Patton) happiness. 
It is quite understandable if that synopsis is not enough to hold you over for a full week. So, check out some more of The Flash in an extended promo for "The Wrath of Savitar" below:
Season three, episode 15 of The Flash, titled "The Wrath of Savitar," airs Tuesday, March 7 at 8 p.m. Eastern on the CW.
Mic has ongoing coverage of The Flash. Please follow our main The Flash hub here.