Is Evan Spiegel married to Miranda Kerr?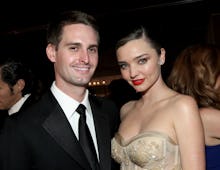 Snapchat co-founder Evan Spiegel currently has it all, even if he still hasn't married his supermodel fiancée Miranda Kerr. 
The two made their first public appearance together as a couple in June 2015. They met at a dinner in Los Angeles for Louis Vuitton, and built a friendship before their relationship turned romantic. 
"We were really good friends for a long time before we started dating," Kerr revealed to the Sydney Morning Herald in February 2016. 
Spiegel and Kerr ultimately got engaged in June 2016 and announced it on Instagram instead of Snapchat, surprisingly. Kerr posted a photo of the ring with some bitmojis of the couple overtop of the image.
Kerr is a Victoria's Secret model and was previously married to Orlando Bloom. She and Bloom have a 6-year-old son named Flynn. Spiegel, on the other hand, was previously linked to Bachelor contestant Lucinda Aragon.
Spiegel attended Stanford University and planned on majoring in product design. After a conversation with a friend, Snapchat was born and he dropped out of school to create the app. In a short amount of time, he quickly became the world's youngest billionaire.
With Snapchat's parent company Snap Inc going public for investors on Thursday, maybe it's time to start wedding planning, you two.