Coachella Lineup 2017: Lady Gaga to replace Beyoncé and Twitter has mixed reactions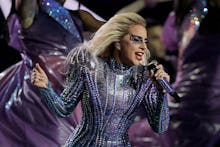 News broke Tuesday that Lady Gaga would be headlining Coachella and taking over Beyoncé's headlining spot at the Indio, California, festival. It was a swift replacement following the Thursday announcement of Bey's cancellation due to doctor's orders regarding her pregnancy. But Coachella 2017 ticket holders are having mixed reactions about the change. Here are some of the tweets showing the dismay and lukewarm feelings about the updated performer: 
Many others tweeted that they're excited, and some are motivated to purchase a ticket now that Lady Gaga is going to be a Coachella headliner. Here are their thoughts:
Many were curious to see whether Beyoncé would still headline Coachella after the singer announced in early February that she was pregnant with twins. But Bey plans to return to the festival in 2018 to make it up to fans. She's already confirmed as a headliner for the event next year. Daft Punk and Rihanna were among the artists rumored to be prospective replacements before Gaga was officially locked in.
Lady Gaga continues to win with major performances, after already headlining the Super Bowl half-time show in February. Beyoncé would have been the first woman solo act to headline the festival in a decade since Bjork. But now Lady Gaga will get to live in this historic moment. 
Gaga is set to perform April 15 and April 22. Kendrick Lamar and Radiohead are the two other Coachella headliners on the bill this year.
Mic has ongoing Lady Gaga coverage. Please follow our main Lady Gaga hub here.