Reactions to Donald Trump's Speech: Republicans, Democrats weigh in on president's address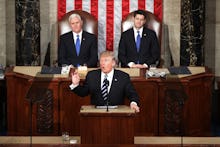 The party lines are starkly drawn between Republicans and Democrats, and President Donald Trump's address to Congress Tuesday night may have only made the division more pronounced.
Republicans applauded Trump's speech – which was rife with "alternative facts" – while Democrats were quick to note the differences between what Trump said during his speech and how he's acted as president.
Both during and after Trump's speech, Sen. Bernie Sanders was vocally critical of Trump, noting at one point that he "had a hard time not laughing" as Trump talked about the need to promote clean air and clean water, despite his plans to roll back regulations protecting clean water.
According to New York public radio station WBFO, Senator Kirsten Gillibrand (D-NY) criticized Trump for failing to "outline a real plan" that would help New Yorkers. Gillibrand said the speech was "more of the same talk" about building a border wall and cutting the Affordable Care Act, policies Gillibrand said "will not raise wages or create good-paying jobs for workers in New York." Following the speech, Gillibrand tweeted to say that Trump's speech "made clear that our president is severely out of touch with our values."
WBFO reported that Rep. Chris Collins (R-NY) saw things differently, saying "Americans across the country tonight witnessed a leader committed to restoring American greatness" and noting that Trump's first 40 days in office have "shown the world he is a president of action."
Senate minority leader Nancy Pelosi released a statement following Trump's speech, calling it "utterly disconnected from the cruel reality of his conduct," noting:
He claims that he's making America safer, but he has jeopardized the security of our country and weakened our fight against terror with his Administration's dangerous, incompetent and unconstitutional actions.
On CNN, Sen. Chuck Schumer called Trump's speech "vehemently and virulently anti-immigrant," noting that Trump "talks one way and does another."
Meanwhile, Republicans appear to be mostly over the moon about Trump's first address before Congress. Education Secretary Betsy DeVos released a statement calling Trump's joint address "a dramatic shift toward a future that puts the needs of our nation's students first."
Speaker of the House Paul Ryan called Trump's speech a "home run" and Senate majority leader Mitch McConnell called it "positive and uplifting," saying that he thought Trump "did a terrific job." 
In fact, the official White House Twitter account so far has posted more than 40 statements from Republican lawmakers congratulating Trump's speech, many centered around ideas of unity: