'Overwatch' 2.05 Update: Invisibility bug forces Blizzard to scrap capture the flag on PS4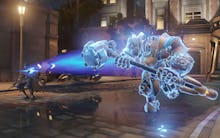 Update: Blizzard released a new patch for PS4, 2.06, that addressed a game-breaking bug in which players were invisible during capture the flag. The original story follows.
Overwatch players on PS4 who downloaded patch update 2.05 and tried to play the new capture the flag mode found that it was broken — like, really broken. So broken, in fact, that Blizzard just had to pull it from the arcade mode altogether until they roll out a fix.
Here's what's going on.
Overwatch 2.05 Update: Players on PS4 totally invisible in capture the flag
Soon after the new patch went live, Overwatch players on PS4 started flocking to Reddit to report that they and their teammates were totally invisible. Some players also reported that the HUD disappeared or that the game just crashed and froze.
Here's a video of the invisibility bug in action:
It's not clear how widespread this glitch was, but Blizzard confirmed it was aware of the problems on its forums and decided to pull the mode from arcade until it was fixed.
"CTF is down on PS4 only in the arcade," Overwatch director Jeff Kaplan said. "It's still available in custom game. We are working on a fix right now and hope to have it corrected in the next few days. Apologies."
It's not clear how a new mode that's so clearly crippled with bugs could have been pushed live in this state, but hopefully it will be fixed soon.
March 1, 2017, 3:27 p.m.: This story has been updated.
More Overwatch news and updates
For more on Overwatch, check out the rest of what Mic has to offer. Here is a list of our predictions for what seasonal events might appear in 2017, a look at a very funny but naughty meme on the Overwatch subreddit, an interview with the creator of an awesome new Overwatch zine, the full patch notes for Overwatch version 2.03, a full explanation of the different types of health in Overwatch, our definitive ranking of every Overwatch hero, a roundup of awesome gender-bent Overwatch cosplay and a giant Overwatch FAQ for beginners.