Tallahassee Mayor Andrew Gillum wants to be Florida's first black governor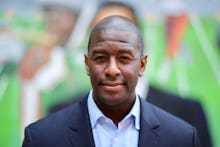 On a recent evening in New York City, Tallahassee Mayor Andrew Gillum reached across the table at Mic's office to show me a map of the United States that displayed the faces of the country's governors superimposed on their home states.
"See anything missing?" asked the 37-year-old, who said his political role model is CNN political commentator and progressive activist Van Jones. "There are no black governors."
Gillum has made it his mission to change that.
On Wednesday, the Florida native declared his candidacy for governor, throwing his hat into the ring for the top post in a state Democrats see as key to fighting President Donald Trump's agenda. If elected, Gillum would also make history as the state's first black governor.
But his chances are a long shot, which Gillum is the first to admit. "I suffer no illusions about how hard this is going to be," he said.
Florida is a deeply divided swing state that went for Trump in 2016. The governor's seat has long been held by Republicans — the last five democratic challengers for governor were all defeated, although the 2014 election was very close. The state's current governor, Rick Scott, is an outspoken conservative and also a close ally of Trump.
But Gillum has the kind of story which could position him for an upset. The Congressional Black Caucus Foundation named Gillum as an an emerging leader in 2003; he was included on a list of rising stars who could be "the next Obama." His national profile grew substantially in 2016, when Gillum delivered a heartfelt speech at the Democratic National Convention. He's also a progressive young politician of color in a state where an estimated 24.5 percent of the population is Hispanic and 16.8 percent is African-American.
Gillum got his political start at age 23, when he became the youngest person to ever be elected to the Tallahassee City Commission. Enrolled at Florida Agricultural and Mechanical University when he ran, he was an unknown college student with almost no chance of winning.
"I had nothing. I only raised $6,000 in the first round of the election, compared to my opponents' $40,000," Gillum said.
With no cash on hand to hire political consultants, Gillum ran an unconventional campaign. He used the money he had raised to purchase T-shirts for over 100 of his friends and family, who then wore them at a local march honoring Dr. Martin Luther King Jr. The stunt generated local buzz, propelling him to victory.
"People thought, 'Who the hell is this guy and why does everybody have his shirt on?'" Gillum recalled.
In 2014, Gillum moved on to his next challenge: He was elected mayor of Tallahassee, the position in which he still serves, with 76% of the vote. Then, too, he faced skepticism as a Millennial politician running a city of almost 200,000 people.
"Skepticism about my age was the first big barrier I had to get over," Gillum said. "I had to get to the point where I didn't feel like I needed to be validated by my colleagues."
But Gillum can now boast an impressive progressive record as mayor. To curb gun violence, Gillum launched a community policing program called Neighbors on the Block to improve community relationships with law enforcement. Gillum won a legal battle against the NRA in 2015. He also supported an initiative called "ban the box" to help those with a criminal record reintegrate into the workforce.
Gillum has been criticized, however, for his handling of a hurricane earlier this year, when thousands in his city remained without power while Gillum publicly feuded with Governor Rick Scott. Gillum blamed the infighting on Scott, but was knocked hard by his opponents for the incident.
"One of the best powers of being elected is the ability to convene people around ideas."— Andrew Gillum
In the wake of the election, Democrats at the national level have debated whether to reach out to rural, working-class white voters or double down on expanding the party's growing and diverse base. Gillum rejects this as a false dichotomy and said the party should focus on sparking conversation that attracts both camps.
"Our strategy has to be to find the through line," Gillum said. "Working class people in general are feeling disaffected, and that's not restricted to white people. It includes black people. We need to stop chopping it up [into groups]."
To this end, Gillum inaugurated a program called the Longest Table, which recently won a Knight Cities Challenge grant. The city closes off a street and invites a diverse group of several hundred community members to have dinner and join in conversation.
"One of the best powers of being elected is the ability to convene people around ideas," Gillum said. "That doesn't solve anything by itself but it is the beginning of the conversation."
Gillum said one of his core issues if elected governor will be education. "We have got to set some simple goals: We want every kid to enter kindergarten ready to learn," he said.
He's also pledged to make the environment a core part of his platform. "Florida can lead the country when it comes to the environmental and ecological changes caused by global warming in our state," Gillum said.
The race is still in its early stages — it is not yet clear whom Gillum would face off in a primary or a general election. Former Rep. Gwen Graham, the daughter of former governor and Sen. Bob Graham, is considering a run, and the mayors of Tampa and Orlando are often floated as possible candidates.
Although Gillum recognizes he has a difficult fight ahead, he also reminded me that President Barack Obama won Florida twice in close elections and believes he too can lean into his progressive roots to help Democrats take back the state.
"We are never going to win back control by being Republican-light. We will win when we decide we are going to represent the values that make us Democrats," Gillum said. "We have to have a big enough vision that can hold where we want to go."