For Women's History Month, Ava DuVernay is highlighting female filmmakers on Twitter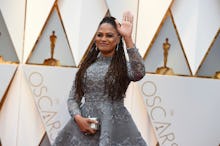 On Wednesday, Oscar-nominated director Ava DuVernay is hosting a 12-hour conversation — or "Rebel-a-Thon" — on Twitter, with nearly 30 female filmmakers using the hashtag #ArrayToday to celebrate the start of Women's History Month. Array is DuVernay's independent film collective.
"We offer this year's Rebel-a-Thon as an opportunity to highlight the important contributions made by women filmmakers," Tilane Jones, Array's executive director, said in a statement Tuesday, according to the Los Angeles Times. "On March 1, we will stand together for inclusiveness in the industry."
DuVernay, director of the Oscar-nominated documentary film 13th, is no stranger to making headlines and launching conversations with her vocal support for female filmmakers. According to USA Today, DuVernay demanded that every director for the first season of her OWN TV series Queen Sugar be a woman — and will insist the same for the show's second season.
The Los Angeles Times reported the following filmmakers will join DuVernay's #ArrayToday conversation:
Amanda Marsalis, Echo Park
Shola Lynch, Free Angela and All Political Prisoners
Tina Gordon Chism, Peeples