Trump signs bill to repeal Obama-era rule blocking gun sales to some mentally ill people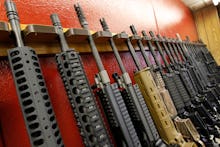 President Donald Trump signed a bill into law on Tuesday that repeals a previous rule intended to prohibit the sale of firearms to the mentally ill. 
The measure reversing the rule was passed by the GOP-controlled Senate in February by a 57-43 margin after consternation from Republicans — and the National Rifle Association — who argued that the rule infringed on Second Amendment rights, according to NPR.
The original Obama-era rule, which was finalized in December 2016, required the Social Security Administration to share information about who was receiving benefits for certain mental disorders with the National Instant Criminal Background Check System. If an individual's information could potentially prohibit them from purchasing a firearm, they would be notified both orally and in writing.
According to CNN, the Obama administration had estimated that roughly 75,000 people receiving disability benefits would have met the criteria to be reported to the national background check system annually.
But the NRA and the American Civil Liberties Union both opposed the rule on the grounds that it was discriminatory. In a letter to Congress, the ACLU wrote that the rule reinforced "the harmful stereotype that people with mental disabilities, a vast and diverse group of citizens, are violent."
All individuals have the right to be judged on the basis of their individual capabilities, not the characteristics and capabilities that are sometimes attributed (often mistakenly) to any group or class to which they belong. A disability should not constitute grounds for the automatic per se denial of any right or privilege, including gun ownership.
"75,000 people a year is a lot of people in my book," Susan Mizner, senior attorney with the disability rights program at the ACLU, told CNN. "And these are people who are already at the bottom of our social status. We don't need to kick them anymore."
The rule had originally been championed by the Obama administration as a response to the deadly 2012 shooting at Sandy Hook Elementary School in Newtown, Connecticut.
During a February speech, Democratic Sen. Chris Murphy, who represents Newtown, beseeched Senate Republicans to abandon their efforts to reverse the measure.
"We know that people with serious mental illness in this country can go buy a very powerful weapon and do great damage with it," he said. "If you can't manage your own financial affairs, how can we expect you are going to be a responsible steward of a dangerous, lethal firearm?"