Snapchat IPO 2017: How to buy Snap stock on the NYSE — and whether you should invest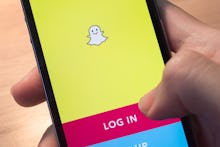 If you want to own a piece of the company behind Snapchat, now is your chance: Shares of Snap stock — ticker symbol SNAP — began trading Thursday on the New York Stock Exchange. They are available to purchase via a brokerage account.
Snap Inc. announced Wednesday afternoon that the initial asking price for shares would be $17 apiece, higher than the previously expected range of $14-$16 per share. The stock then opened at $24 a share on Thursday, before climbing above $25.
There's at least a little bit of luck at play: The Wall Street Journal noted that Snap debuts amid a soaring stock market, which on Wednesday notched to a new all-time-high, not long after the Dow Jones Industrial average broke above the 20,000-point mark for the first time. The hope for Snap is that a flashy rollout will overshadow a pair of recent controversies regarding the company's transparency and advertising practices.
Whether you, personally, could have gotten any of the $17 shares is unlikely, since companies usually partner with a big investment bank who helps price the shares and line up buyers. And the question of whether you should by the stock is another question entirely.
Early buyers with the inside connection are the ones getting that $17 per share price, and they're usually a mix of big hedge funds, pensions and stock brokerages. If you're a little lucky, you're already a customer with someone involved in the underwriting process, in which case they may give you the opportunity to buy shares at the IPO price, although that's typically a privilege reserved for high-rollers. 
For everybody else, the best way to get SNAP stock is going to be to set up an account with a brokerage like TD Ameritrade or Robinhood which will let you place something that's called a limit order. That's basically where you say "here's the maximum I'll pay for a share" and your broker will buy them for you at the best price they're able.
But should you actually buy SNAP stock?
The best case for investing now is if you buy the idea that Snap has the possibility to develop into an advertising powerhouse while also making money off of new products like Spectacles. It has a devoted young audience whose daily active users open the app an average of over 18 times a day. 
The best argument for steering clear? 
If you think the main job of a company is to make money, this isn't the investment for you. The company isn't actually profitable yet, and as CNN noted, it only started trying to make money two years ago. In its own prospectus that it supplied to regulators, the company said it "may never achieve or maintain profitability."
Errr, okay! 
A lot of the risk comes from the fact that Snap is generally said to be a less developed company than Facebook and Twitter were when those companies first delved into public markets, and the case of those companies shows just how inconsistent an investment IPO stock actually is. 
Investing in Facebook near its IPO, for instance, would have been a really good bet if you held it long enough. After a disastrous IPO, the stock is up more than 254% in the five years since it debuted. Twitter's share price, on the flip side, has declined by more than 60%.
Hype surrounds Snap's founder and CEO Evan Spiegel himself, who was touted in the company's roadshow as a "once in a generation founder" for his aptitude in product design and reading popular culture. A roadshow is like when a band goes on tour to promote its album, except instead of fans the company performs for hedge fund managers and analysts. 
Just how much faith do Snap's investors have in Spiegel? They gave him a $750 million bonus for taking the company public — a pretty crazy deal-sweetener when you consider that the IPO alone is expected to net Spiegel as much as $6.25 billion. 
Snap's recent forays into hardware, exemplified by last year's Spectacles and, more recently, a rumored drone, have built the hype even more. 
If you're going to try to invest in the stock, be sure you're willing to lose some or even all of your investment, as young companies tend to be a much riskier bet than more established corporations.
But if you are trying to grow your retirement savings or other savings in the stock market — but you're nervous about "single company" risk — most financial planners suggest you buy cheap (low-fee) diversified index funds.
March 2, 2017, 2:00p.m. Eastern: This story has been updated.
Sign up for The Payoff — your weekly crash course on how to live your best financial life. Additionally, for all your burning money questions, check out Mic's credit, savings, career, investing and health care hubs for more information — that pays off.