How much money does the cast of 'The Big Bang Theory' make?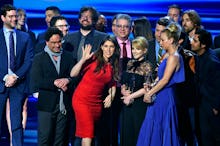 In a show of unity and parity, the five original cast members of The Big Bang Theory have taken a small cut in their salaries to raise the salary of their co-stars Mayim Bialik and Melissa Rauch. 
Bialik and Rauch have earned significantly less than the hit comedy's stars Jim Parsons, Johnny Galecki, Kaley Cuoco, Kunal Nayyar and Simon Helberg. Since joining the show in season three, Bialik's and Rauch's per-episode fee has risen from $20,000 to $100,000 per episode, while the original five stars most recently earned $1 million per episode. In order to release $500,000 to help fund Bialik and Rauch's salaries, Parsons, Galecki, Cuoco, Nayyar and Helberg have agreed to take a $100,000 cut in salary for the next two seasons. 
This move follows Shameless star Emmy Rossum's recent demand for equal pay with her co-star, William H. Macy.  
A high-cost cast 
The Big Bang Theory is one of TV's most popular sitcoms, but it is also a costly show to continue. Production costs have risen to $9 million an episode, more than half of which consists of the actors' salaries. 
Parsons, Galecki and Cuoco were contracted to $1 million per episode for a 24-episode season for three more seasons, beginning in 2014. The trio of stars are TV's highest-paid actors on comedies. 
Created by Chuck Lorre and Bill Prady, the series premiered on CBS in September 2007. The show follows five characters who live in Pasadena, California — four academically gifted and socially awkward men and their neighbor, Penny, whose friendliness and common sense contrast with their social ineptitude. 
One decade later, the show remains a hit: 21.5 million viewers tuned in for the season 10 premiere. 
Big stars, big paydays 
Galecki, Parsons and Cuoco received up to $60,000 per episode for the first three seasons. Their salaries for the fourth season increased to $200,000 and increased to $350,000 an episode in the seventh season. New contracts were signed in August 2014 with Galecki, Parsons and Cuoco getting $1 million per episode for three years as well as larger pieces of the show, signing bonuses, production deals and advances toward the back-end. 
TV Guide reports that between June 1, 2015 and June 1, 2016, Parsons made $25.5 million, Cuoco made $24.5 million, Galecki made $24 million, Helberg made $22.5 million and Nayyar made $22 million.
Mic has ongoing Big Bang Theory coverage. Please follow our main Big Bang Theory hub.