What are the new immigration policies? What the Trump administration is expected to change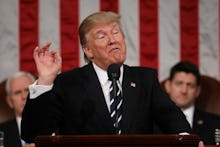 President Donald Trump is expected to sign a new executive order on immigration in the coming days to alter his now-infamous travel ban, which is currently being blocked by federal courts. 
Officials said Tuesday that the Trump administration will drop Iraq from the list of seven majority-Muslim countries targeted by the 90-day travel ban and will no longer include  explicit exemptions for religious minorities in targeted countries. Opponents of the executive order had said the measure prioritized Christian refugees over Muslim refugees while Trump actually admitted as much, saying in January "we are going to give preference to Christians."
The order will also apparently include Syrian refugees in a broader four-month ban on refugee admissions, but will not single them out specifically.
Iraq will be removed from the list at the urging of the Pentagon and State Department, officials told the Associated Press, because of Iraq's strategic role in combating the Islamic State.
Permanent residents will also likely be excluded from the new executive order, which the Trump administration hopes will make it more difficult to challenge in court. 
Trump shifting position on immigration?
The announcement of the impending executive order comes amid some puzzling — and seemingly contradictory — Trump statements about immigration.
On Tuesday, Trump appeared to be open to softening his hardline stance on undocumented immigrants, telling reporters at the White House that "the time is right for an immigration bill as long as there is compromise on both sides."
But later, during his first address to Congress, the president maligned undocumented immigrants as criminals. The Atlantic reported he brought as guests three relatives of people who'd  been killed by undocumented immigrants and called for the creation of Homeland Security office focusing specifically on crimes committed by immigrants. He also talked about a need to end "lawless chaos" at our borders. He spoke glowingly of deportations and of the "great, great wall" he plans to build along the United States-Mexico border — a stark contrast to the softer tone he'd struck earlier in the day. 
Several undocumented immigrants present at Trump's address Tuesday, as guests of Democratic lawmakers, were disheartened by the president's speech. 
Oscar Juarez-Luna, a Dreamer who attended with Colorado Rep. Jared Polis, told the Huffington Post that it was "difficult to be there."
"The way he was addressing the immigrant community in a way that just separating them based on their legal status ... and as everyone being criminals ? that's not who we are," Juarez-Luna said. "That's not what the immigrant community is. We're aspiring Americans seeking a better future."