Ed Sheeran "Eraser" lyrics: Every verse to standout track from 'Divide'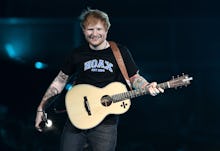 Days before his third studio album drops, Ed Sheeran continues to surprise fans with new sounds — this time a fresh track called "Eraser." Sheeran released the song via a live performance on SBTV Tuesday. 
The singer is no stranger to crooning about his feelings, but he also shows off his rapping skills to express his musings while playing his guitar in the video below. 
On the honest track, the British singer gives us the idea that although he's found success and popularity with his music, there are downsides to the life he is living as a big-name artist. "I chased the pictured perfect life, I think they painted it wrong/ I think that money is the root of evil and fame is hell," Sheeran sings with transparency. 
"Eraser" lyrics
Below are all the verses from "Eraser," which are filled with more of Sheeran's imagery-driven songwriting skills. Lyrics below are compiled from Genius. 
[Verse 1]
I was born inside a small town, I lost that state of mind
"Eraser" is featured on Sheeran's third album, Divide, which will be released on Friday, March 3. The album is available for pre-order on iTunes here. 
Mic has ongoing Ed Sheeran coverage. Please follow our main Ed Sheeran hub here.