US Tornadoes: Latest on Perryville, Missouri, and other cities that saw deadly twisters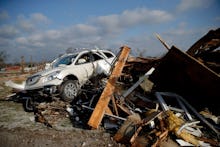 The Midwest was ravaged by tornadoes Tuesday night, as over 20 tornadoes touched down in Illinois, Missouri, Iowa, Tennessee and Indiana.
At least three people were killed by the tornadoes, NBC Chicago reported, along with a number of injuries and reports of damaged or destroyed homes.
Some of the tornadoes' worst effects were felt in Perrysville, Missouri, a town of 8,000 approximately 80 miles south of St. Louis. The tornado damaged or destroyed dozens homes, the St. Louis Post-Dispatch reported, and resulted in 10 injuries. One person was killed by the Missouri tornado when the twister crossed Interstate 55, overturning vehicles and scattering cars from a nearby junkyard.
"It's mind-boggling, I can't believe what I'm seeing," Hank Voelker, a Perry County resident and head of their emergency management agency, told the Post-Dispatch. "It's like a bomb went off."
Ottawa, Illinois, was another small town badly affected by Tuesday's tornadoes. The tornado left 7,500 without power at its peak and resulted in at least 14 injuries and one fatality, ABC News reported, which was due to an uprooted tree.
The tornadoes' third fatality occurred in Crossville, Illinois, NBC Chicago reported, which is over four and a half hours from Ottawa. Other affected areas, CNN reported, include LaSalle County, Illinois, where a nursing home suffered damage. All residents were safe and accounted for, CNN noted.
In addition to the tornadoes, Tuesday's storms also produced baseball-sized hail in some areas, the Chicago Tribune reported. The resulting winds also spread wildfires in Texas, resulting in the evacuation of nearly 1,200 homes. 
In response to the tornadoes' devastation, Illinois Gov. Bruce Rauner announced on Facebook that he had State Emergency Operations Center to aid the affected communities. Missouri Gov. Eric Greitens said the state's Emergency Management department was responding to the Perryville tornado as well, writing on Facebook that the local community "should know that the full weight and support of the state of Missouri is behind you."