'Suits' season 6, episode 16 recap: Which characters returned in the finale?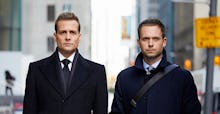 In the penultimate episode of Suits' sixth season, Harvey was able to find dirt on James Palmer, and in doing so, paved the way for Mike to gain admittance to the New York bar. Before "Quid Pro Quo" ended, though, Harvey warned Mike to be prepared for any hitch that comes his way. And boy did that turn out to be some kind of foreshadowing. 
(Editor's Note: Spoilers ahead for season six, episode 16 of Suits.)
The finale of Suits' sixth season had a few ongoing storylines to wrap up. The driving arc in the second half of season six was, of course, Mike's path back to becoming a lawyer — and the lengths Harvey would go to make sure that happened. 
Other major ongoing story arcs included Donna's business endeavor with Pearson Specter Litt's IT man, Benjamin, and Louis' fractured relationship with Tara. As is customary in season finales, most of these arcs concluded in one way or another, but that doesn't mean we got a full-blown happy ending. 
The season finale of Suits did deliver quite a few returning characters, though. And some them may shock you.
What happens in Mike's hearing?
It did not take long for that hitch Harvey warned Mike about to show up. And it was a whole lot worse than they could have imagined. Early in the season finale, Harvey and Mike learn that the newest member of the character and fitness committee is none other than Anita Gibbs, the U.S. attorney who put Mike away in the first place. When Gibbs vows to never let Mike into the bar, Harvey goes into overdrive to get her thrown off the committee. 
As it turns out, Gibbs was able to join the committee because another member resigned and named her as his replacement. As only Harvey can, he starts looking for leverage on the recently resigned committee member in order to strong-arm him into flipping on Gibbs. Harvey, though, learns that there are some people without any skeletons in their closets. 
In keeping with the rest of the season, Harvey even crosses a line or two to try and get things done — including assaulting the former committee member. Whether any of Harvey's actions come back to bite him in the ass remains uncertain. With Harvey unable to easily remove Gibbs from the committee, Mike was forced to plead his case, despite her constant objections. And Mike did make a compelling argument for becoming an attorney.
Still, Gibbs continuously attempted to attack Mike's character, which led Rachel to cite a rarely used precedent that would allow him to bring in a character witness. Enter our second returning character of the episode, Mike's prison psychologist, Julius. While it took some convincing, Julius does agree to testify on Mike's behalf, and he delivers one hell of an argument, even questioning Gibbs' integrity in front of the rest of the committee. 
Even so, Gibbs refuses to budge, with her only off-the-record offer being that if Mike turns in Harvey, she will let him through the bar. Obviously, that does not fly. In the end, Mike receives a helping hand from another name on Pearson Specter Litt's wall: No, not Louis, but the returning Jessica Pearson! In a shocking, yet well-appreciated return, Pearson tells the committee she was the only one who knew about Mike's fraud, and then tells a touching story of Gibbs' past compassion.
While the finale did keep us on the edge of our seats until the very end, Pearson's return did the trick, and Mike, for the first time, officially becomes a lawyer. While the end of "Character and Fitness" may have wrapped up things a bit too neatly, with Mike agreeing to return to Pearson Specter Litt (for what appears to be a hefty sum), it is hard not to be thrilled knowing he and Harvey will be back doing what they do best: Kicking ass... in the courtroom. 
"The Donna"
Believe it or not, there were a few other stories going on in the Suits' season finale. In "Quid Pro Quo," Donna and Benjamin found an investor for "The Donna" in stock trader Stu. It turns out, however, that bringing "The Donna" to market is going to be more difficult that they imagined. 
Since "The Donna" overlaps with an existing patent by 32.5%, Donna and Benjamin will not be able to bring the personal secretary to market without gaining an exclusion, or somehow getting the device under the 30% threshold, which Benjamin claims cannot be done. 
Donna takes the situation to Louis, who is still suffering the fallout from his fight with Tara (more on that in a moment), and asks that he find a way around the patent issue. She also, in a very non-Donna-like moment, tells him not to let his situation with Tara screw it up. And though Louis doesn't shit the bed, he is unable to get the holders of the first patent to grant an exclusion — even for a generous revenue-sharing deal.
Louis is, however, able to get Donna, Benjamin and Stu a nice buyout that would also allow them to utilize "The Donna" in-house. But while Benjamin and Stu are on board, Donna is not so sure. In an emotional moment, after Harvey tells Donna she should take the money, she admits that she wants more. And while it is not explicitly said, you have to wonder whether she is referring to more than just "The Donna." Like, will Harvey and Donna finally get together? Who knows.
What is for sure is that this storyline continues to be a breath of fresh air for fans of Donna, as we finally get to see her struggle through her own priorities, rather than everyone else's. As such, I am certainly interested to see what will happen with her come season seven. 
Louis and Tara
With everything else going on in the season finale, there was only so much time that could be devoted to Louis' relationship troubles. Still, the writers did a great job weaving his anguish throughout the other storylines. And you can really feel Louis' hurt. After his argument with Tara in the season's penultimate episode, Louis does visit her office in an attempt to make things right.
Unfortunately for Louis, though not surprisingly, Tara is unable to forgive so quickly: She was hurt not only by Louis' lies, but also the fact that he made her feel ashamed of herself. Throughout the rest of the episode, Louis had trouble focusing on anything else, as the fear that Tara would leave him permeated his brain. 
In the last moments of the season finale, Louis gets a 15-second voicemail from Tara, but is too nervous to listen to it. But with Rachel by his side, he does, and for 15 seconds, we see Louis go through a heart-wrenching range of emotions that end with utter sadness. It certainly appears that Louis and Tara are no more. 
Since the finale ended shortly after, the most interesting thing will be how Louis reacts going forward. Will he blame Mike since it was his initial lie that paved the way for Louis' future troubles? Does Louis continue to show humility and try to become a better man and hopefully win Tara back? I have no idea, but I definitely want to find out.
Verdict
"Character and Fitness" was an extremely enjoyable, and mostly satisfying, end to Suits' largely stellar sixth season. The season as a whole featured tremendous character development for each of the main characters in ways that should spill over into subsequent seasons. I am particularly enjoying the larger focus on Donna and Louis' personal endeavors outside of the firm, and hope they continue. 
While I would have liked to see Mike stay at the clinic a little longer and not cave so easily (as even Harvey insinuates), I am pleased that he will be keeping his word, helping the clinic through financial donations. How Oliver and Nathan react to this news, though, will be interesting to say the least — especially after Oliver put his neck on the line, likely assuming Mike would stay to help him and the clinic do some good. 
Ultimately, it is hard to find too much wrong with Suits' sixth season or the finale. Some storylines may have been wrapped up a little too neatly, but that is not all that unusual for a finale and allows the focus to move in new directions in subsequent seasons. What that means for season seven of Suits is not entirely certain, but I for one am game to find out. 
Mic has ongoing coverage of Suits. Please follow our main Suits hub here.