Yemen Raid Controversy: What happened to Ryan Owens?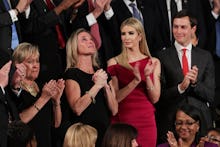 On Tuesday, President Donald Trump took a moment of his address to a joint session of Congress to honor the memory of Chief Petty Officer William "Ryan" Owens, the first military death of Trump's presidency.
"Ryan died as he lived: a warrior, and a hero — battling against terrorism and securing our nation," Trump said during the speech to Owens' widow, Carryn, who was in attendance. "I just spoke to Gen. Mattis, who reconfirmed that, and I quote, 'Ryan was a part of a highly successful raid that generated large amounts of vital intelligence that will lead to many more victories in the future against our enemies.'"
That intelligence, however — like much about the Yemen raid that resulted in Owens' death — is still in dispute. Though White House press secretary Sean Spicer said in February that "anyone who would suggest [the raid was] not a success does disservice to the life of Chief Ryan Owens," many are still questioning the circumstances surrounding Owens' death — including the Navy SEAL's father himself.
"Don't hide behind my son's death to prevent an investigation," father Bill Owens said. "I want an investigation. ... The government owes my son an investigation."
Yemen raid preparations
At the center of the Yemen raid controversy is how well-equipped Trump was to order the raid in the first place. A Reuters report following the raid reported that Trump approved the raid "without sufficient intelligence, ground support or adequate backup preparations," resulting in unexpectedly difficult circumstances that led to Owens' death.
The Trump White House maintains that the raid had been vetted and prepared for — primarily by the outgoing Obama administration. 
Spicer provided a timeline for the military strike, which he said was first presented by U.S. Central Command on Nov. 7. The raid was approved by the Department of Defense on Dec. 19 and sent to then-President Barack Obama's National Security Council, where the operation was green lit at an inter-agency deputies meeting on Jan. 6. The operation was held off until after Trump took office, Spicer said, because they were waiting for the next "moonless night."
"This was a very, very well thought out and executed effort," Spicer said.
Officials in the Obama administration, however, refuted Spicer's claims. Colin Kahl, a former national security adviser to former Vice President Joe Biden who attended the Jan. 6 deputies meeting, called Spicer's version of the events "fan fiction" in an interview with CNN. 
Obama administration officials, Kahl explained, were briefed on a general expansion of authority to conduct operations like the Yemen raid, but not that specific operation itself. The decision was deferred to the Trump administration, Kahl said, "so they could run a careful process, because this was a significant escalation that would put our men and women in harm's way in a very dangerous environment."
"The reality was, there was never an operation or raid briefed to the Obama administration," Kahl continued.
Kahl's report of the events were also corroborated on Twitter by Ned Price, the former National Security Council spokesman and senior director under Obama. 
Yemen raid outcome
Regardless of how the raid was approved, the military operation had dire consequences. 
The raid, the New York Times reported, turned into a 50-minute firefight that destroyed a $75 million aircraft and wounded three other American soldiers in addition to Owens' death. The operation, reportedly, also resulted in the deaths of at least 25 civilians, including nine children.
"As it turned out, almost everything that could go wrong did," the New York Times reported.
Despite Spicer's statement that those who questioned the mission's success would dishonor Owens, many still took issue with the military operation.
"I would not describe any operation that results in the loss of American life as a success," Sen. John McCain said about the Yemen raid.
To justify the raid's success, the White House pointed toward the intelligence it yielded, as Trump reiterated during his joint session address. However, that claim, too, has been up for debate.
Defense officials told CNN that information had been gleaned through the raid, saying "the quantity and quality of the information is high." NBC News, however, cited other U.S. officials, who said they were unaware of any "actionable intelligence" gathered during the mission. The only specific intelligence evidence the military has provided so far, NBC reported, is a dated bomb-making video that is not currently useful.
One thing is clear, though: No matter what happened, Trump isn't taking the blame.
"This was a mission that was started before I got here. This was something they wanted to do," Trump said in an interview with the Fox News, putting the blame squarely on the U.S. military. "They came to see me, they explained what they wanted to do ? the generals ? who are very respected, my generals are the most respected that we've had in many decades, I believe. And they lost Ryan."
Trump's refusal to accept responsibility stands in stark contrast to how other presidents have accepted the loss of American lives during their administration. President George W. Bush took responsibility for the Iraq War, while Obama said in response to the 2012 Benghazi attack, "I'm the president. And I'm always responsible." President Harry Truman even kept a sign saying "The buck stops here" on his desk, which refers to the expression "passing the buck," or passing responsibility on to someone else. 
In response to the Iran-Contra affair, President Ronald Reagan made his culpability clear in a speech from the Oval Office:
First, let me say I take full responsibility for my own actions and for those of my administration. As angry as I may be about activities undertaken without my knowledge, I am still accountable for those activities. As disappointed as I may be in some who served me, I'm still the one who must answer to the American people for this behavior. ... [As] the Navy would say, this happened on my watch.