This online simulator will show you what it's like to be legally blind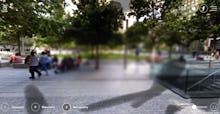 A new online simulator will show you what it's like to walk through the world you already know — but as a legally blind person.
The way the simulator works is simple. You input an address or location, and the simulator transports you there using Google Street View. You'll see your surroundings through one of three filters: "cataracts," "glaucoma" or "retinopathy," all of which can be adjusted for severity.
The campaign was created in partnership with Prevent Blindness, according to CNET. A statement from See Now explained that the goal of the simulator is to raise awareness about "avoidable" vision loss by showing users what familiar places would look like through the eyes of someone who is visually impaired.
One in four kids in the United States has a vision problem and close to one in 10 adults experiences vision loss, Prevent Blindness COO Jeff Todd said in a statement. 
"Most cases of vision loss can be prevented or treated, beginning with a single visit to an eye doctor," Todd said.
See Now is also calling on Congress to allocate $6.3 million in funding to fight preventable blindness and help vulnerable populations access eye care. 
The need is real: A 2007 study found an estimated 61 million U.S. adults were at "high risk" for vision loss. The researchers found "substantial inequity" across the country when it comes to accessing eye care, with around 5 million of those high-risk adults unable to afford eyeglasses when needed.
A 2010 survey found that 86% of Americans who have — or are at risk for — an eye disease don't get annual eye exams. Some said it was because they did not have insurance or thought an exam would be too expensive.
In a statement about the online simulator, Erin McCallum of the See Now campaign said the organization hopes it can encourage more people to seek eye care for themselves and to advocate for access to eye care for others.
"We believe when people experience what it would be like to lose their sight, from seeing what their own street looks like with poor vision, they will appreciate the problem in a way they never did before," McCallum said.