People are tasting Nintendo Switch game cartridges — and apparently they're disgusting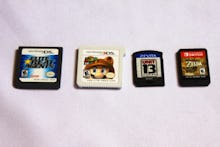 Nintendo Switch reviewers have gotten their first taste of the console's games — literally. People are physically putting the Switch game cartridges in their mouths to see how games like Zelda: Breath of the Wild taste. The unanimous verdict: They taste like garbage.
Why are people putting Nintendo Switch game cartridges in their mouths?
The earliest sighting of a game reviewer putting a Nintendo Switch cartridge in their mouth probably came from Giant Bomb's Jeff Gerstmann. The seasoned game reviewer popped the cartridge right out of the Switch system and proceeded to throw it in his mouth. This was followed by a disgusted reaction. Here are the visuals.
And here's Gerstmann after the fact.
Despite his warning, it seems many reviewers have followed his lead. Here's a brief selection of examples on Twitter:
And even non-reviewers are taking part in the choking hazard "fun." Here's how Twitter is reacting to this bizarre new trend.
Why would Nintendo make Switch game cartridges taste bad?
Unlike other modern consoles, the Nintendo Switch utilizes cartridges instead of discs — a much smaller medium to store games. Switch games are even smaller even than previous cartridges belonging to other game consoles like the Nintendo 3DS. This may explain why Nintendo opted to give the new cartridges an unpleasant taste, but we're just speculating for now.
Update: Nintendo's issued a statement to Mic regarding the taste of their Switch game cartridges, saying, "To avoid the possibility of accidental ingestion, keep the game card away from young children. A bittering agent (Denatonium Benzoate) has also been applied to the game card. This bittering agent is non-toxic."
March 1, 9:19 p.m. ET: This story has been updated.
More Nintendo Switch coverage
Looking for more Nintendo Switch news? Check out our comparison photos sizing up the Switch to the Wii U GamePad (part one and part two) and the best way to get alerts when new stock arrives. Then take a look at a leaked video of the Nintendo Switch menu interface and dark mode features. 
If you're just getting caught up, here's everything you need to know about the console's price, release date, preorders, battery life and our hands-on review. And if you're interested in the Nintendo Switch's games, here's info on the new Super Mario Odyssey, Legend of Zelda: Breath of the Wild, Splatoon 2, Xenoblade Chronicles 2, 1-2-Switch and the goofy boxing game Arms.