The 10 Best 1980s References in 'The Americans'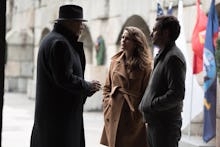 Ah, the 1980s, a time of big hair, bright patterns and totally tubular Valley Girl-speak. At least, that's how a lot of us remember the decade — or think we remember the decade thanks to pastiche films like The Wedding Singer and TV shows like The Goldbergs.
But sometimes the best way to remember a distant time (this was, eeek! 30-plus years ago, after all) is through the subtle memory triggers provided by a now-defunct grocery product or a song that, while popular at the time, hasn't exactly gone into the annals of music history. That's why a show like FX's Cold War drama The Americans is one of the best scrapbooks of 1980s pop culture out there. The series, which follows a pair of married Soviet spies posing as all-American suburbanites, regularly dots its storylines with familiar items and relics from the early 1980s, without letting the period setting distract the viewer from the heart-pounding narrative.
This means that, even though last season took place in 1983, there was no mention of Michael Jackson or his chart-topping album Thriller. By refraining from the more obvious artifacts, The Americans succeeds in giving the viewers a much more heartwarming jolt of nostalgia when it pulls something a bit more obscure out of its pocket.
As we gear up for the series' fifth installment, which premieres Tuesday, March 7 at 10 p.m. Eastern on FX — and will take place in 1984 — let's look back at 10 of the coolest 1980s references The Americans has featured over the past four seasons. (Should you want to catch up on the entire series to date, The Americans is available to stream on Amazon Prime.)
Frusen Glädjé ice cream
Don't feel badly if you don't remember Frusen Glädjé. This rival to Haagen-Dazs (it means "frozen delight" in Swedish, whereas Haagen-Dazs is a made-up name) was part of the upscale ice cream craze of the early 1980s, but has since faded into obscurity. Fortunately for any dessert historians out there, the writers of The Americans didn't forget about Frusen Glädjé. In the season three premiere, KGB protagonists Philip and Elizabeth Jennings — played by Matthew Rhys and Keri Russell — bring a tub of the "Swedish" frozen treat (it was actually manufactured stateside) to a dinner with their handler, Gabriel, portrayed by Frank Langella. 
"Tainted Love" by Soft Cell
Once upon a time, "Tainted Love" was just a peppy one-hit wonder track from new wave band Soft Cell. But when The Americans used it to soundtrack yet another one of Philip's necessary innocent-bystander killings, the song took on a new, chilling tone. In the second episode of the fourth season, a nosy airport worker started asking a few too many questions while Philip was engaging in his spy duties (handing over a deadly virus — you know, small stuff). Having no choice but to take lethal action, Philip strangled the poor sap while the synth chords of "Tainted Love" played in the background.
"Mr. Robinson's Neighborhood"
Before Eddie Murphy reigned supreme at the box office with Beverly Hills Cop and 48 Hours, the comedian paid his dues in the early 1980s as a cast member of Saturday Night Live. One of his more classic sketches was a send-up of Mister Rogers' Neighborhood called "Mister Robinson's Neighborhood" — which was decidedly not for children. But that didn't stop Philip and Elizabeth's teenage son, Henry (played by Keidrich Sellati), from checking out NBC's late-night comedy show from time to time. What's so genius about how The Americans handled this particular pop culture reference is how there is never a mention of the words "Eddie Murphy," "Saturday Night Live" or "Mister Robinson's Neighborhood" in the dialogue. All Henry has to do is describe the bit to his father — with a pretty serviceable Murphy impression to boot — and quote familiar lines like, "Hello boys and girls — we're all alone again today. You know why? My wife walked out on me." You still know what he's talking about.
The Magic of David Copperfield V: The Statue of Liberty Disappears
When the Jennings family sits down to watch The Magic of David Copperfield V: The Statue of Liberty Disappears in a season four episode, even the secret Soviets in the room are fascinated by how the TV illusionist succeeded in his task. But for those of us watching in May 2016, this scene, which revolved around seeing a symbol of American liberty and immigration vanish into thin air, held a particular relevance: Donald Trump — who, by then, had made no secret of his views on immigration — was only a few months away from clinching the Republican nomination and, ultimately, the presidency. Given the events that unfolded in the aftermath of Trump's inauguration, it was prescient to hear Copperfield talk about his immigrant mother and the importance of freedom during this 1983 TV special. That and, 34 years later, we're still scratching our heads over how exactly he made the Statue of Liberty disappear, even for just a few moments.
Intellivision
Back in 1982, playing a video game on your phone probably sounded as futuristic as colonization of Mars. That's because at the time, if you wanted to play video games, you had to either drive to an arcade or hook up a console to your television set. So it's no wonder that Henry Jennings was obsessed with the home-gaming system Intellivision during The Americans' second season. But what do you do when your parents won't buy it for you — and said parents are off collecting intel for Mother Russia? Why, break into the Intellivision-owning neighbors' house and play those coveted games there, of course! 
Banana Frosted Flakes
This so-called "healthy" variation of the Kellogg's classic breakfast cereal was only on supermarket shelves for three years in the early 1980s, but a box of Banana Frosted Flakes still found its way into the Jennings' grocery bag. In this case, it's just a prop from a tense scene between Philip, Elizabeth and their teenage daughter Paige (played by Holly Taylor) from season four's penultimate episode. But it is a testament to The Americans and its uncanny ability to track down arcane artifacts of the period.
Ms. Pac-Man
One of the most hilarious pop culture moments on The Americans landed at the tail end of its debut season, which takes place in 1981. Elizabeth meets up with her frumpy handler, Claudia, at a cafe only to find "Granny" playing a round of Ms. Pac-Man. It's the last thing you'd expect to see Margo Martindale's character, a tough-as-nails Soviet patriot, doing, but as she explains to Elizabeth, "I enjoy the maze part, the eating without eating part — Pac dots are calorie-free." It's a rare instance where Claudia's humanity (she likes puzzles and eating without gaining weight) slips through.
The Day After
One 1980s activity that has faded over the years is the concept of a family watching a special television event together. In this age of DVR and over-scheduled calendars, seeing the Jennings sitting down to watch TV elicits far more waves of nostalgia than the actual programs they watch. The Americans celebrated this long-lost tradition twice in season four with back-to-back episodes. The first, as previously mentioned, featured The Magic of David Copperfield V: The Statue of Liberty Disappears. But it was the second episode, centering on the November 1983 TV movie The Day After, that made David Copperfield's message about not taking our freedoms for granted seem almost glib. All of the characters — the Americans, the Soviets and the Soviets pretending to be Americans — watched The Day After and its unforgiving depiction of a nuclear holocaust. With this telepic airing during the height of the Cold War, no one — again, be they American or Soviet — walked away from it unscathed.
Upstairs at Eric's by Yaz
The prominent use of tracks from synth-pop band Yaz's debut album is another great example of how The Americans avoids being too on-the-nose with 1980s music. In a season three episode, Paige Jennings is way too cool to want something like a Duran Duran album for her birthday, so lucky for her, she's got a KGB spy dad who works his latest target — the teenage daughter of a CIA official — to get the scoop on what the kids were really listening to in late 1982 Washington, D.C.  Not only does Philip score major points with his daughter by purchasing Upstairs at Eric's, but we as viewers get to revel in forgotten pop treasures like "Don't Go" and "Only You."
Bill Murray in Tootsie
Did you know Bill Murray was in Tootsie? It's cool if you didn't — as it turns out, the onetime Saturday Night Live cast member asked not to be credited for his role as Dustin Hoffman's roommate in the Oscar-winning film. In the decades since its 1982 release, Tootsie usually just conjures up images of a cross-dressing Hoffman in oversize glasses and a giant wig. But when The Americans had Noah Emmerich's FBI agent Stan Beeman take a Russian defector to see the movie in a season three episode, the show deftly reminded viewers of Murray's work in Tootsie by using one of the comic actor's scenes as opposed to one that just showcased Hoffman. 
The fifth season of The Americans premieres Tuesday, March 7 at 10 p.m. Eastern on FX.
Mic has ongoing The Americans coverage. Please follow our main The Americans hub here.