27 contemporary musicians you should listen to in 2017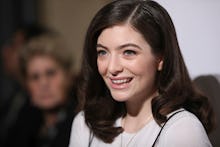 There is a long list of contemporary musicians across genres shaping the current soundscape of 2017. Two artists, with projects out in 2017, began ruling the airwaves at the top of the year: Ed Sheeran, whose mellow Caribbean-pop track "Shape of You," went number one; and Migos, the Atlanta hip-hop trio also topped the charts with their popular trap anthem "Bad and Boujee." 2017 is also expected to bring highly-anticipated follow projects such as Lorde's follow-up to her 2013 debut album Pure Heroine and Sky Ferreira's Masochism. And similar to SZA's CTRL, we're awaiting confirmation on album release dates that are still up in the air. 
As always, music fans have to keep their ears and eyes open for unexpected album drops, an industry trend in recent years. By the end of 2017, it will be intriguing to look back at how music will continue to serve a platform for the present social and political climate of our nation. With that said, here is a look at 27 artists who should be on your radar in 2017.
The xx
British indie pop band The xx released their latest album I See You, their first in four years, at the top of 2017. The trio is returning to the Coachella stage in April. 
Stormzy 
British grime star Stormzy is claiming his place in hip-hop and grime on his debut album Gang Signs & Prayer, which dropped on Feb. 24. The project has received critical acclaim and has features from Kehlani, MNEK and others. 
RAY BLK
Unsigned R&B singer RAY BLK won the BBC "Sound of 2017" contest, dubbing the 23-year-old's music as a force to be reckoned with in the months to come. You can stream the newcomer's socially conscious mini album Durt here.
Sky Ferreira
Sky Ferreira, who got her start releasing videos on Myspace, has left fans waiting years for new material since her debut Night Time, My Time in 2013. The indie pop-rock singer is expected to put out her new record Masochism in 2017, which she has been teasing since last year.  
Cameron Avery
Leaving his group Pond behind for some time, Cameron Avery, the bassist in Australian psychedelic band Tame Impala, announced his debut solo album Ripe Dreams, Pipe Dreams would be available on March 10. Upon its release, he will be touring this spring.
Priests 
Punk band Priests are known for using its art as activism in Washington, D.C., a city that recently went through a transition of power. It's also where the group formed. On their latest album Nothing Feels Natural, released in January, the foursome takes on their usual topics of capitalism, patriarchy and democracy's ills, according to SPIN.
Dirty Projectors
The American indie band recently returned with their group-titled studio album in February. Dirty Projectors, the band's first project since their 2012 Swing Lo Magellan, is a genre bender that falls in line with the group's earlier work.
Kehlani
Bay Area native Kehlani's debut album SweetSexySavage, is filled with R&B and pop jams she performs with feminine vulnerability and sway. The album illustrates a young woman coming into her own and finding her voice and power through music.
Lana Del Rey
Although there has been no official word from her team about a new album, Lana Del Rey is rumored to be following up with a new project in 2017, since Honeymoon released in 2015. In February, the moody pop singer dropped a new song and visual "Love," featuring the singer's haunting vocals.
Sampha
After a lengthy hiatus, British singer-songwriter Sampha re-surfaced last year with a feature on Solange's album A Seat at The Table, and confirmed his debut would be dropping in 2017. Sampha remained true to his promises by putting out Process in February. 
Ed Sheeran
British pop/soul phenomenon Ed Sheeran returned to music strong in 2017 with two successful singles — "Shape of You" and "Castle on the Hill" — from his third album Divide. 
Katy Perry
In February, Katy Perry re-surfaced with a woke pop track "Chained to the Rhythm" in which she teamed up with Skip Marley, the grandson of legendary reggae singer Bob Marley. The new song is the prelude to her next highly anticipated and expected project in 2017. 
Charlie XCX
Besides being on the lineup for this year's Governor's Ball festival, pop singer Charlie XCX confirmed that her untitled third studio album will arrive in May 2017, according to Rolling Stone. The new project will be filled with party music a la her most recent track "After the Afterparty" featuring rapper Lil' Yachty.
Future 
In February, rapper Future wowed us with his work ethic as he released two albums back-to-back: his self-titled Future followed by HNDRXX. On his first release, he delivers boisterous trap anthems, meanwhile on HNDRXX, he channels his Future Hendrix persona to auto-tune and croon his feelings. 
Lorde
It's been four years since singer Lorde released her Grammy-winning hit "Royals." The New Zealand artist is currently plotting a return and rumors are swirling that we'll hear new music from her any day now. 
Syd
The internet's bandleader Syd took a break from her group to release her debut solo album Fin in February. On the project, the singer departs from her group's acoustic neo-soul sound and takes on a more radio-friendly hip-hop tinged R&B mood that she coats with her angelic vocals. 
Migos 
Atlanta hip-hop trio Migos took over the charts at the top of the year with their single "Bad and Boujee" and followed up with their album Culture, which debuted in the top spot on the Billboard albums chart. Before this year, Migos was already loved in hip-hop realms, but it seems they're set to become even bigger names in the months ahead. 
Noah Cyrus
Miley's little sister is carving her own lane with her stripped back electro-pop cut "Make Me (Cry)" about a toxic relationship, featuring British crooner and songwriter Labrinth. Noah Cyrus will fully show her musical potential on her debut NC-17, expected to drop this year.
Lady Antebellum
Popular country group Lady Antebellum dropped their fun and funky new track "You Look Good" in January. It's been three years since their 2014 album 747, and they're gearing up for their next album drop Heart Break on June 9 as well as a tour starting in May, according to Billboard.  
Drake
Drizzy isn't taking many breaks. After releasing his Grammy-nominated Views in 2016, the OVO leader is expected to premiere his next record More Life on March 4, during the next episode of OVO Sound Radio on Apple Beats 1. 
SZA
TDE's first lady SZA has been teasing her next album CTRL for some time. Music fans thought they were going to hear the singer's latest release in February, but that was a false alarm. However, the album is expected to drop any day now. Meanwhile, listeners can enjoy her latest single "Drew Barrymore."
Gucci Mane 
Rapper Gucci Mane's new single "Make Love" recently caused a stir after his featured artist Nicki Minaj dropped a couple of lines on the song that prompted rapper Remy Ma to respond with a viral diss track "ShETHER". The controversial single was the start of his promo run for his next album DropTopWizop, due out soon. 
The Killers
With their charitable dedication, rock band The Killers released another Christmas album last year, with proceeds going to the (RED) foundation. The band's Brandon Flowers revealed in an interview with The Kevin & Bean Show that fans would also be getting another gift in 2017: a follow-up to their 2012 record Battle Born. 
Joey Bada$$
Brooklyn rapper Joey Bada$$ is another artist preparing to get back in the game in 2017. He said on Twitter late last year that he intends to release his next project AABA in 2017. In January, Bada$$ showed signs that he's preparing for a future roll out when he dropped a new track called "Land of the Free."
Haim
Pop sister trio Haim have been working in their creative bubble to ensure they're comeback this summer. Danielle Haim told Entertainment Weekly that fans can expect for them to return to their roots on the forthcoming project, a follow-up to their 2013 opus Days Are Gone.
Major Lazer
Dance music can always use some new Major Lazer tracks. Although Diplo, one-third of the trio, says their next album may not come out this year, fans can expect new singles — which still sounds like music to our ears. In January, PartyNextDoor and Nicki Minaj hopped on Major Lazer's single "Run Up on You."
Odissee
With jazz and hip-hop as his vehicle, independent rapper Oddisee brings his musings on identity and his experiences as a black American, Muslim American and an artist who is climbing the ladder of success on his new album The Iceberg. "There are things that are on this record that I don't think I've heard people say in a way that actually still makes me enjoy the music at the same time," Oddisee told Mic in an interview. "I'm hoping I pulled that off."
Mic has ongoing music coverage. Please follow our music hub here.