'RuPaul's Drag Race' season 9 will premiere March 24, permanently moving to VH1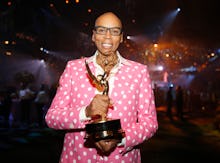 After an All Stars season tryout simulcasting on both Logo and VH1, RuPaul's Drag Race is permanently jumping to a new home.
As reported first by Entertainment Weekly, season nine of RuPaul's Drag Race will air on Fridays on VH1 this spring, starting with its premiere on March 24. Encore airings of episodes will air on Logo.
"Broadcasting the show on VH1 will allow more fans to experience the energy, heart and talent these fierce queens bring to the stage every week," said Pamela Post, Logo's senior vice president of original programming and development, in a statement to Entertainment Weekly.
Not only is the channel hop unexpected — although in retrospect, the simulcast certainly seemed to presage a change — but the move to broadcasting on Fridays is a major shift. Drag Race has a significant culture of watching live at gay bars; it's easy to imagine this change only increasing that viewing experience.
RuPaul's Drag Race season 9 will premiere March 24 at 8 p.m. Eastern on VH1. Lady Gaga will appear as the guest judge in the first episode.