'Overwatch' Update: Custom game browser on PS4 hindered by Sony, according to Blizzard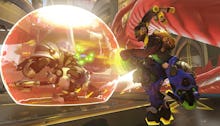 One of the biggest features to come to Overwatch in patch 2.05 is the custom game browser, which lets players create and join games with highly customized — and usually, very wacky — rulesets. In fact, a whole subreddit has popped up dedicated to cataloguing particularly fun rulesets for other players to duplicate. 
But on PS4, the feature is a bit hamstrung at the moment — and Blizzard's pointing the finger at Sony.
Overwatch Update: PS4 players can't name their custom games
On Xbox One and PC, players can rename their custom games to help players get an idea of what the match is trying to emulate at a glance — like "boss fight" or "predator mode" or "paintball," for example — but that's not the case on PS4. Instead, Overwatch players on PS4 just see a long list of samey names that are structured like this:
Yep, there's no way for PS4 players to rename their games right now. According to Blizzard, the feature is on the way, but the Overwatch team ran into some issues when it came to "PlayStation's user generated content naming policy."
"We're sorry that you cannot name games like the other platforms can right now but you will be able to do so in the near future," Overwatch director Jeff Kaplan said.
On its own, this difference is not a huge deal, but it's just the latest in a string of issues PS4 players have experienced in patch 2.05. Blizzard had to pull the new capture the flag mode from the arcade while it fixed a game-breaking invisibility bug.
Until Blizzard implements ability to rename games on PS4, you can tap the "options" button on your controller to look at the exact rules of each game to find something that piques your interest.
When either issue is addressed, Mic will keep you updated.
More Overwatch news and updates
For more on Overwatch, check out the rest of what Mic has to offer. Here is a list of our predictions for what seasonal events might appear in 2017, a look at a very funny but naughty meme on the Overwatch subreddit, an interview with the creator of an awesome new Overwatch zine, the full patch notes for Overwatch version 2.03, a full explanation of the different types of health in Overwatch, our definitive ranking of every Overwatch hero, a roundup of awesome gender-bent Overwatch cosplay and a giant Overwatch FAQ for beginners.