Flint residents to pay full price for water that's still undrinkable without filtering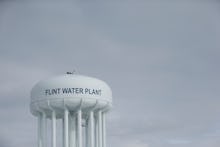 On Wednesday, the people of Flint, Michigan, will resume paying the full cost of their water bills for the first time since 2014, despite the fact that the city's contaminated water is still not safe to drink unless it's been filtered.  
Flint entered the national spotlight in 2014, after it was discovered that state officials' decision to switch the city's water provider to the Flint River resulted in highly corrosive water coursing through the city's pipes, contaminating it with toxic levels of lead in the process.
For the past three years, state credits to the tune of roughly $40 million have assisted residents by covering 65% of their water usage. The subsidies have also benefitted Flint's businesses, covering 20% of their water usage, NBC News reported.
But according to the Washington Post, Anna Heaton, a spokeswoman for Michigan Gov. Rick Snyder, said the state assistance will now cease "because the city's water meets all federal water quality standards under the Lead and Copper Rule and Safe Drinking Water Act, the same standards as other cities."
The emergency declaration on the water crisis was lifted last August, after federal officials tested nearly 50 locations in the city and found that the water, when properly filtered, was safe to drink.
But Flint residents have been burned by government officials before — and they're not buying it.
"They're not telling the truth about the water testing," Melissa Mays, a community advocate with Water You Fighting For, told NBC. "They're saying they're in compliance, but everyone here has had to learn the Lead and Copper Rule, and they're not."
"People are still testing way high for lead, as well as bacteria that the state's not even looking at."