Could Oprah be mulling a presidential run?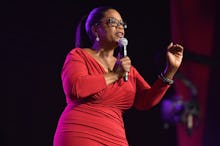 Oprah Winfrey has kind of, sort of suggested she would maybe, possibly be open to running for president. 
In December, Winfrey initially told businessman and philanthropist David Rubenstein that she never before considered the possibility, but changed her tune after Rubenstein pointed out that "it's clear you don't need government experience to be elected president of the United States."
"That's what I thought," Winfrey agreed. "I thought, 'Oh gee, I don't have the experience, I don't know enough. And now I'm thinking, Oh.'"
During the interview — which aired Monday on Rubenstein's new talk show on Bloomberg Television — Rubenstein asked Winfrey if she thought she could be the one to shatter the glass ceiling. Though her open-ended response elicited cheers from the audience, she later implied she was joking. 
"No, that won't be happening," Winfrey said. 
This isn't the first time Winfrey was asked whether she'd run for office. Most recently, during an appearance on The Late Show in January, Stephen Colbert asked her if she believed Michelle Obama would ever run for president.
"Never!" Winfrey said, echoing the former first lady herself. 
"Is there any other charismatic African-American woman that both sides of the political aisle ..." Colbert began to ask, to wild cheers from the audience.
"Never!" Winfrey repeated.
Donald Trump had implied over the summer that he'd like Winfrey to be his running mate, but she wasn't having any of it. When Jimmy Kimmel asked her about the idea in July, she said, "I'd tell him, 'Donald — I'm with her.'"
In that same interview, she also said the "one thing I know for sure-sure-sure is that I will never run for office."
Winfrey has influenced politics in other ways, though. Her endorsement of Barack Obama during his first campaign for White House — the first time she made such an endorsement — she apparently earned him 1,015,559 votes, according to a study.