Ivanka Trump's bra strap shouldn't be controversial — her wearing a French designer should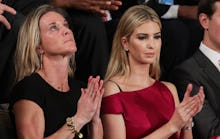 There was plenty for the sartorially-minded to talk about after Donald Trump's Congressional address — namely, the Democratic women in white and Melania Trump's glittery Michael Kors outfit. 
Another outfit drew markedly less attention: Trump's daughter, Ivanka, wearing a $2,995 asymmetric one-shoulder Roland Mouret peplum dress. 
And we need to talk about it.
In comparison to Melania's $9,590 dinner jacket and pencil skirt, this was downright affordable. But it wasn't the dress's price tag that caught some folks' attention, but rather a detail that many mistakenly labeled as an exposed bra strap.
"Ivanka Trump flashed bra strap look for Trump's joint session address: tacky or chic?" the Mercury News inquired.
A small subsect of Twitter, too, couldn't help but take notice.
But here's the thing: That's not a bra strap, just a detail of the dress's design. The cap sleeve seen on the right shoulder is able to achieve that silhouette through the support of the strap. 
Even if that weren't the case, this could be cited as simply a design choice.
Hell, even if her bra were exposed, what would be the real problem there?
More noticeably egregious than her "bra strap," perhaps, was Trump's choice to wear the dress at all. Designer Roland Mouret is, after all, a French designer, and this matters critically for one very important reason.
See, during Trump's 75-minute speech, he uttered this important line about creating millions of jobs: "Buy American and hire American." Wouldn't it make sense then to lead by example and have Trump's own daughter adhere to this mantra?
Just sayin'.