A GOP attack ad hits a Democrat for dressing as Han Solo, singing in an a cappella group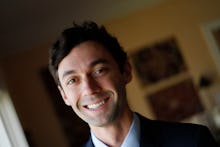 A GOP super PAC is spending more than $1 million on an attack ad against a Democratic House candidate in Georgia, knocking him for dressing up as Han Solo, drinking and singing in an a cappella group during his time in college.
"Jon Ossoff really wants you to think he's ready to be in Congress," a narrator says over an image of a suit-clad Jon Ossoff, a 30-year-old Democrat and former Capitol Hill staffer running in a special election in suburban Atlanta.
"There's just one problem: Ossoff wasn't exactly fighting against terrorism, he was fighting against restrictions on keg parties," the narrator continues. "You see, Ossoff was just a college kid, doing things like dressing up with his drinking buddies and pretending to be Han Solo."
"And here's Ossoff and his college buddies making fun of Georgetown's female students," the narrator says over video of Ossoff in an a cappella group at his alma mater, Georgetown University.
The lyrics in question? "Georgetown girl, you know she's living in her F Street world" – a nod to a street adjacent to nearby George Washington University's campus.
It's unclear whether the ad will have an impact on Ossoff's future in the special election for Georgia's 6th Congressional District. The special election was called to replace GOP Rep. Tom Price, who left the seat to serve as President Donald Trump's secretary of Health and Human Services.
The district is filled with upper-middle class, college-educated Americans who likely would not be shocked to learn that college students play beer pong and sing in a cappella groups.
The ad is more notable for the fact that it exists at all.
In past election years, the seat was heavily Republican. Then-GOP presidential nominee Mitt Romney won the district by a 24-point margin in 2012. In 2016, however, President Donald Trump won the district by one point, beating Hillary Clinton 48% to 47%, according to the Daily Beast.
A Republican super PAC spending more than $1 million against a Democrat here suggests the seat could be in play in the special election.