The crippling effect 'RuPaul's Drag Race' moving to Friday nights is having on queer nightlife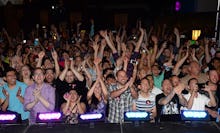 When Viacom unexpectedly announced that the upcoming ninth season of their mega-hit series RuPaul's Drag Race would be moving from Logo to VH1, they did it with one big selling point: now in HD. They further sweetened the news by reminding viewers of Lady Gaga's guest appearance on the March 24 premiere.
But another switch-up in the series' schedule is one that doesn't have many fans screaming "yaaas Gaga": a bizarre and inexplicable move from Monday night, where the show has aired regular seasons from its inception in 2009, to Friday night — commonly known as the Friday night death slot (see: A Different World, Ugly Betty, Happy Endings).
But unlike those series, who's ratings had begun to plummet leading up to the the move, RPDR shows no signs of interest fatigue. In fact, the Season 8 opener in 2016 was the highest rated premiere in three years. Add RuPaul notching his very first Emmy in September and RuPaul's Drag Race All Stars Season 2 breaking Logo records in October, and it's clear to see the series is hotter than ever.
So what's a little shift in schedule going to do to hurt the show? After all, with DVR and On Demand, what difference does it make what night it airs? 
It matters because of the community, largely LGBTQ, who have helped support the series long before it hit the mainstream — and the sacred spaces in which many have chosen to commune for their viewing parties. This seemingly innocuous schedule change, one that won't even take effect until the show's premiere Friday, already has queer nightlife in a panic.
"It's bad news," George Maestre, owner of Boxers NYC, a popular gay bar located in Manhattan, said in an interview on March 1 (in the time between that interview and the publication of this piece, Boxers has become VH1's Official NYC Viewing Party). "Monday is ordinarily a dead night, but during the time of RPDR it became a gay Super Bowl every week. It's an amazing revenue that we've come to count on every year."
Maestre's disappointment is shared by other bar owners across the country, like Adam Lynn, general manager of Cedar Springs Tap House in Dallas. "Monday night in the bar industry just about anywhere is typically the slowest night and having RPDR on Monday definitely gave us a nice boost," he said in an interview. "We definitely had more staff working on Monday as a result — more bartenders, more servers, more door people. Those shifts wouldn't exist otherwise."
For Steven Mc Enrue, general manager of Metropolitan Bar and assistant manager of Macri Park, both in Brooklyn, the Friday swap meant shifting schedules and people, many of whom had come to rely on the weekly paycheck during the three months the show airs annually, losing out on gigs.
"I was annoyed, like many others," he said upon learning of the schedule change-up. "When it was on Mondays, it was a great day for everyone in the service industry to come together and have a great time and share in the experience of the show. It made Mondays a highlight of the week instead of the day that everyone dreads."
It made Mondays a highlight of the week instead of the day that everyone dreads."
There's also a concern over Friday night overcrowding. Lynn, for instance, worries that the move will present some scheduling difficulties due to LGTBQ alumni groups or organizations like Stonewall Democrats regularly booking Happy Hours or mixers on Friday nights.
"It's going to be extra on top of a day of the week that is already hectic," Mc Enrue explained. "Also, a lot of people in the industry won't be able to partake in viewing parties because they'll be working."
"We don't know if the networks and the power's that be really understand the impact that gay bars have played in pushing the series," Maestre said. "Many people don't have cable at home and they come to the bars to see the show. Now it's just going to be another regular, slow bar night."
There are those that see the see as a business opportunity. "We don't expect moving to Friday nights will have any impact on our drag show," David Cooley, Owner of Los Angeles' The Abbey Food & Bar, said in an interview. "RuPaul's Drag Race has done a nice job popularizing drag and exposing it to a broader audience. Hopefully the move to VH1 will expose drag performers to an even broader audience, making our Monday night show even more popular." 
Of course, in the case of gay bar staples like the Abbey, they are less reliant on stunts like a viewing party — but for smaller, more community-driven bars, this move is adding pressure on an industry already feeling a choke.
"Aja [who is appearing on Season 9] was going to host Metro's weekly viewing party this season, but with it's move to Fridays, that is no longer possible," Mc Enrue explained. Still, he remains optimistic. "It's move to Fridays is disappointing no doubt, but it's going to change how we all consume the show... and that might not be a bad thing after eight seasons."
Viacom declined to comment on the record for this article.