Donald Trump's DHS has only found enough funding to pay for one mile of his border wall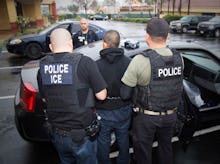 President Donald Trump, who earlier this year issued an executive order to promptly begin construction of his promised border wall with Mexico, has so far only scraped together less than 0.1% of the project's expected $21.6 billion budget, Reuters reported on Wednesday.
That's according to an internal Department of Homeland Security report on what funding the agency has available to re-direct towards the wall, Reuters reported. According to the report, while the $20 million is enough to begin prototyping the project, DHS estimates each mile of fencing will cost $9.3 million and each mile of actual wall would run as high as $17.8 million.
Thus the president has shifted enough funding to erect approximately one whole mile of wall.
That means Trump will be forced to go to a Republican-controlled Congress to appropriate funding for the project, where he will run up against conservative legislators demanding any increases in government spending be offset by spending cuts to other federal outlays.
Trump has promised to increase the budget of the U.S. military by 10%, or $54 billion, and has proposed cutting tens of billions of dollars from the Environmental Protection Agency and State Department's discretionary budgets in order to pay for it.
While the president has repeatedly promised to force the government of Mexico to pay for the wall, the Mexican government has unsurprisingly not been forthcoming with the demanded funds.