What movies are coming out in March 2017? 7 can't-miss new releases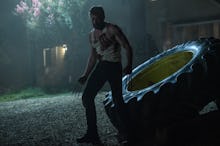 With the Oscars out of the way we can finally and fully dive into the films of 2017, and it looks like March has plenty to offer.
Although we've come to think of summer as the time for the year's biggest blockbusters, March will bring us several big movies. From Hugh Jackman's final ride as Wolverine in Logan to Disney's live action Beauty and the Beast, here are the films to look forward to this March.
Logan (March 3) 
From the moment the trailer for Logan begins and we hear Johnny Cash's cover of Nine Inch Nails' "Hurt," it's evident that the film — which sees Hugh Jackman reprising the role of Wolverine — will be a gritty one. Hugh Jackman's last film as Wolverine follows the aged mutant in the near future. He has retired and lives a solitary life caring for a sickly professor Charles Xavier. Nevertheless, when a young girl appears with powers similar to his — rare in a world with few mutants left — he finds himself determined to help. 
To get a sense of what Mic thought of the film, check out our review here.
Before I Fall (March 3)
If Groundhog Day was an adaptation of a YA book and then merged with Mean Girls, you'd have Before I Fall. A more twisted version of the Bill Murray film, Before I Fall gives us the perspective of a teenage girl who — day after day — relives the day she died. She's popular and hangs out with a ruthless group of girls, but as the trailer suggests, she knows how things will end. She's hopeful she can change the outcome, and becomes determined to change as a person as well.
Kong: Skull Island (March 10) 
It's been over 10 years since Peter Jackson presented us with his epic King Kong film. Kong: Skull Island, however, tells a different, earlier story. An expedition team arrives to a mysterious island that they soon determine is pretty vicious. Here they first meet Kong, the giant ape who rules over the island. But from the trailer it appears as if Kong isn't the only giant and deadly creature to roam the land. 
Beauty and the Beast (March 17)
Emma Watson stars as Belle in what looks to be a pretty faithful live action adaptation of the Disney classic Beauty and the Beast. The film features Downton Abbey's Dan Stevens in the role of the beast, a version of the famous "Beauty and the Beast" song performed by John Legend and Ariana Grande, and several high profile actors taking on the roles of your favorite kitchenware and household appliances. 
Power Rangers (March 24)
The newest live action Power Rangers film will answer an important question right off the bat: How did the group of colorfully dresser heroes come to be? The movie, an origin story, sees a bunch of misfit kids who come across these special coins that lead them to learning they are actually the Power Rangers. The film chronicles their discovery and their battle against Rita Repulsa, a Ranger gone bad. 
Life (March 24)
After it was recently announced that scientists have discovered seven planets that resemble Earth, perhaps there's no better movie to watch than Life, a sci-fi horror film set aboard the International Space Station. The movie, which stars Jake Gyllenhaal and Ryan Reynolds, looks at the consequences of a major discovery: a life form that existed and then eradicated Mars. As this life form begins to grow, the six people aboard the station have to find a way to get rid of it before it takes them out and, perhaps more frighteningly, all of Earth.
Ghost in the Shell (March 31)
Ghost in the Shell, a film adaptation of the popular manga, stars Scarlett Johansson. The movie garnered controversy in its early days given that Johansson is not Asian — and sees the American actress playing a cyborg whose mind is put in a shell after a horrible accident. The cyborg, who goes by Major, leads an elite task force called Section 9 and faces a mysterious opponent who wants to wipe out a company at the forefront of cyber technology. 
Mic has ongoing coverage on the latest in film. For more information, check out our movies hub here.